Tourist arrivals in Chile up 15% in first half of 2012: Argentina, Brazil lead
Saturday, July 14th 2012 - 07:12 UTC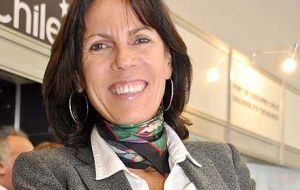 Chilean Tourism Under Secretariat head Jacqueline Plass made a positive balance of tourism activity during the first half of the year with over 1.85 million foreign arrivals, a 15% increase over the same period a year ago.
Plass said that Argentina continues as the main source of arrivals and in the first six months of the year reported a 26% increase over last year, totalling 779.963 arrivals. Brazilian tourist arrivals on the other hand jumped 27%, and "Colombia is another outstanding source of arrivals having increased 30% over 2011"
"More specifically during June the number of tourists from Brazil soared 35% compared to the same month a year ago", added the Chilean official.
In the six months tourists arrivals' country of origin were as followed: Argentina 42%; Brazil and Peru, 9.6% and Bolivia, 9.2%.
Regarding the European market, arrivals only increased 5.1% over the same period a year ago totalling 214.176, while North America was even more modest with arrivals up 3.1% reaching 148.097 tourist arrivals.
Ms Plass said on releasing the numbers that "we are seeing the results of promotion work jointly displayed by the government and the private sector in those markets which we have defined as priorities: Argentina, Brazil, US, Spain, UK; France, Germany, Peru, Colombia and Australia, appealing to tactic actions very much focused on commercial television, end consumers, fairs, events, invitations to specialized media and travel agents".