Argentina celebrates second anniversary of same-sex marriage bill
Monday, July 16th 2012 - 19:39 UTC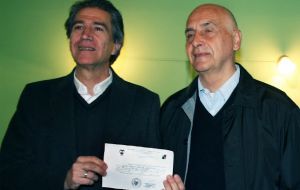 A law giving gay and lesbian couples the right to marry in Argentina celebrated its second anniversary over the weekend. Argentina became the first Latin American country to legalize gay marriage after President Christina Fernandez signed the law on July 21, 2010.
Lawmakers approved the law on July 15 over the strong objections of the Roman Catholic Church; one cardinal called the movement to legalize such unions the devil's handiwork.
A couple together 27 years was the first to marry under the law. Architect Juan Carlos Navarro married his partner Miguel Angel Calefato in Santiago del Estero on July 30.
More than 6.000 gay couples have tied the knot since the law's adoption, most of which took place in the capital Buenos Aires (1.405) and its surrounding province (1.455), according to gay advocate Comunidad Homosexual Argentina (CHA).
"The bottom line is that for two years we've had this right, the State recognizes our families and our country's democracy respects diversity, as it should be around the world," said Cesar Cigliutti, president of the CHA.
It is estimated that Argentina has 2,400,000 gay, lesbian, bisexual or transgender persons out of a total population of over 40 million.
Gay marriage is also legal in the city-state of Mexico City, whose marriages are recognized throughout Mexico. Eleven countries in the world have similar legislation.