Disappointing results from oil drilling to the south of the Falklands
Monday, July 16th 2012 - 15:09 UTC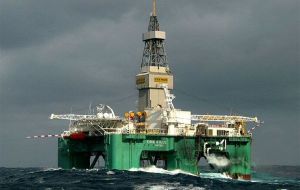 Borders & Southern Petroleum reported on Monday disappointing results in the Falkland Islands from the latest well to be drilled as part of the controversial search for oil in the South Atlantic islands over which Argentina claims sovereignty.
Shares in the company plunged nearly 70% to a three-year low of 19.75 pence after it said that the Stebbing well found evidence of gas but not in quantities that were likely to be commercial.
Technical difficulties meant the well did not reach lower targets, a result it called disappointing.
"Well 61/25-1 was drilled to a total measured depth of 3060m (true vertical depth of 3011m). The well penetrated the upper Tertiary target on prognosis but was unable to reach lower targets due to anomalous pressure conditions", said the company in a release.
"It is very disappointing not to have reached all the potential reservoir targets in this well. The geological and engineering data will now be reviewed in detail in order to understand the complexities of this prospect".
"The Company now intends to plug and abandon the well in line with regulatory requirements and assign the rig to Falkland Oil and Gas".
Borders & Southern's disappointment follows the company's initial success when its first well, also drilled south of the Falklands, found gas condensate, a liquid which often trades at a premium to crude oil.
The Falklands look set to be transformed into a new oil producing region following an oil discovery made by another firm, Rockhopper Exploration, two years ago off the north coast of the Islands.
Rockhopper signed a one billion dollars deal with Premier Oil on Thursday to help fund the development of the oil field.
Borders & Southern is leading the charge to find oil off the south coast of the Islands. The rig will now go to drill for Falkland Oil & Gas.