Top Uruguayan university dumps Dean on homosexual 'anomaly' controversy
Tuesday, July 17th 2012 - 01:38 UTC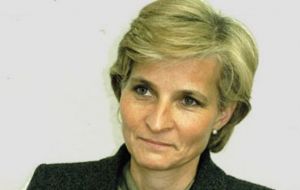 The University of Montevideo accepted the resignation of who had been nominated as Dean following the controversy triggered when in an interview she described homosexuality as an "anomaly" and added this condition "hampers" teaching staff contracting.
Last Saturday Dr Mercedes Rovira communicated to the authorities of the University of Montevideo, UM, her resignation to taking the post of Dean of the University of Montevideo. "This was accepted" said the institution in a brief release.
Freedom of the individual and the search for the truth are the foundations of the university and its academic performance, "therefore the appreciations during the interview do not concord with the spirit or institutional culture of UM, which does not take sexuality into account at the moment of contracting staff".
The institution with over 25 years in academic activity, 2.700 students, 300 collaborators, 600 teaching staff and over 3.000 graduates reiterates "its apologies to those people who felt aggravated and to public opinion" for the comments of Dr Rovira.
In an interview published last week, Rovira who this Monday was to take the post of UM Dean, made controversial statements regarding homosexuality and admitted that this condition "weighs" at the moment of contracting teaching staff.
UM which has in a few years a leading university in several fields, particularly business and law, self describes itself as an institution guided by the "moral guarantee of spiritual formation" delivered by the Catholic Church Opus Dei institution.
"Balck Sheep" a Uruguayan organization of lesbians, gays and transsexuals announced it will begin legal actions against what it described as "a clear expression of discrimination" and will report the case to the Human Rights Institute.