Chavez announces fund in support of Venezuelan business to export to Mercosur
Wednesday, July 18th 2012 - 09:07 UTC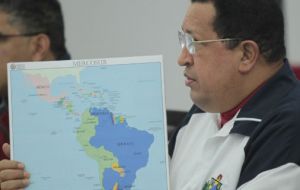 Venezuelan president Hugo Chavez announced the creation of a strategic fund geared to support public and private exports to Mercosur, following his confirmation that he will fly to Brazil for the formal incorporation of his country as a full member of the block that also includes Argentina, Brazil, Uruguay and suspended Paraguay.
"I've ordered the creation of a strategic fund of several hundred million dollars to support Venezuelan private companies with an export oriented profile and also government corporations", said Chavez speaking on national television.
Venezuela is expected to be formally admitted to Mercosur as full member at the end of the month in Rio do Janeiro. A decision which is considered controversial since it was agreed following Paraguay's suspension, the only country which continued to veto the incorporation, and under Mercosur rules all decisions, even more when referred to new members, must be agreed by consensus.
Paraguay was suspended from Mercosur following the political impeachment and removal of President Fernando Lugo. The sanction is extensive until new elections are held scheduled for April 2013.
"We faced all kinds of obstacles, a thousand obstacles, the last of which that authoritarian pro-yank enclave and enemy of South American integration which was encysted in the Paraguayan Senate: they were asking millions of dollars to say yes, but that didn't happen because I won't be blackmailed", said Chavez.
"I would have liked the (incorporation) process not to have evolved this way, but Paraguay was suspended and the only obstacle in the way, for years, was out".
Finally Chavez emphasized that Mercosur opens doors and great opportunities for Venezuelan production, for the economy to keep growing: "Are we going to Brazil? Of course we are delighted to attend the ceremony in Rio do Janeiro, a historic event".