Geithner defends US response during the 2008 Libor-rate credibility slump
Wednesday, July 18th 2012 - 17:03 UTC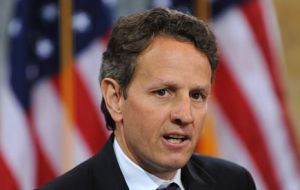 US Treasury Secretary Timothy Geithner defended his response in 2008 to concerns that emerged over the benchmark Libor interest rate, arguing on Wednesday that US regulators pushed early and forcefully for reforms.
Geithner, then head of the New York Federal Reserve, sent an email to Bank of England Governor Mervyn King in June 2008, recommending six ways to enhance the credibility of Libor after Barclays had flagged concerns as early as 2007.
"We acted very early in response to the concerns that the processes to set this rate were impaired and flawed, and vulnerable to misrepresentation" Geithner said at the CNBC Institutional Investor Delivering Alpha conference.
"The US, to its credit, set in motion at that stage a very, very powerful enforcement response, the first results of which we have now seen," he said, adding "there is more to come."
Libor, or the London inter-bank offered rate, is calculated daily in London when panels of banks submit estimates of how much it costs them to borrow. It is a major index that helps judge the health of banks and influences rates from mortgages to student loans to credit cards.
The BoE passed on Geithner's thoughts in an email to the British Bankers Association (BBA) - the banking group responsible for Libor - which at that stage had already decided to launch a review of the rate. But few of the measures were adopted, and questions linger over what US and UK regulators did since then to fix problems with Libor.
Barclays is the only bank so far to admit any wrongdoing in giving false information as part of the complex process of setting the interest-rate benchmark, but documents released last week indicate the practice may have been widespread during the financial crisis.
Geithner said problems with Libor have not been resolved and that the United States has now taken the initiative to push for more reforms, adding that the best enforcement response is needed to restore trust and confidence in the financial system.