US oil companies interested in investing in YPF, but have their conditions…
Thursday, July 19th 2012 - 07:58 UTC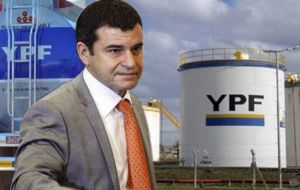 At least four leading US oil corporations are interested in investing in Argentina's nationalized YPF but are demanding a law that guarantees investments, direct export of oil and remittance of benefits.
According to Argentine government sources the companies that have been in contact include Exxon-Mobil, Chevron, ConocoPhillips and Apache and are ready to begin formal talks with YPF CEO Miguel Galuccio once the conditions are met.
Apparently in informal talks Galuccio admitted to a law that guarantees investments since this could also help counter Spain's Repsol worldwide campaign warning peers that it is in the process demanding Argentina for the seizure of a majority stake in YPF.
The four US companies are not intimidated by Repsol's campaign but want the same Congress that supported nationalization of YPF to pass a bill guaranteeing investments, the export of oil and profits remittance.
However such a move will have to wait until the end of the year since Argentina currently can't guarantee the exit of earned dollars or barrels of oil giving the precarious situation of the Central Bank's international reserves and the need to supply the fuel-hungry domestic market with every possible barrel of oil.
Argentine government sources revealed that the first contacts with US corporations was done by Ambassador Jorge Argüello in Washington a few hours after the nationalization bill was passed by Congress and later the Minister of Federal Planning Julio De Vido received representatives in Buenos Aires.
CEO Galuccio in a couple tours in the United States trying to attract investments was also given a similar message.
The revelations come a few days before CEO Galuccio is preparing another incursion in the US, particularly Houston to attract investors to help develop a company that will again allow the remittance of dividends in the 'second phase' and has plans to invest 35 billion dollars , drill 1.400 wells and create 10.000 jobs in the next five years.
These numbers can be read in a brochure from the Argentine embassy in Washington where Galuccio promises YPF will honour all requests and continue to trade in the New York Stock exchange.
The brochure says that YPF will recover its level of production of fifteen years ago and estimates in 3.5 billion dollars this year's investment. There is also abundant information on opportunities to develop alternative energies in Argentina.
"In the first phase YPF plans to reinvest all of its earnings, but in the second phase there will be a policy of dividends consistent with the growth of the company. YPF will be managed taking into account the interests of shareholders".
Galuccio says the target is to increase hydrocarbons production by 42% in five years.
"We will drill a thousand wells in 2013, a level of activity not seen since 1996 and we are adding 20 new drilling equipments".