Brazil moves into Ghana with 96million dollars loan for small farmers
Monday, July 23rd 2012 - 09:09 UTC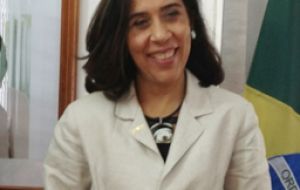 Ambassador to Ghana, Irene Vida Gala announced that Brazil has plans to make available a 96-million-dollar loan facility to boost small-scale and rural farming in Ghana to help increase food production and subsequently improve the country's bread basket.
Ms Gala said this when a team from the Food and Agricultural Show (FAGRO) paid a courtesy call on her recently to invite her to participate in the 2012 FAGRO.
This year's FAGRO is on the theme: "Linking Farmers to the Appropriate Market: a Value Chain Process". It is scheduled for August 23rd to 25th, 2012 at the Efua Sutherland Children's Park in Accra.
The FAGRO is a marketing and networking platform that brings together actors in the agricultural sector to promote and expand agricultural activities in the country to contribute meaningfully to development of the sector.
The Brazilian Ambassador said part of the facility would be used to build the competences of small-scale farmers to reduce the importation of food and address food security concerns.
She noted that for the first time, fifteen (15) Brazilian companies would be participating in the FAGRO with various agricultural products such as; machinery, feeds for fish, cattle and other animals.
"Our main aim is to advertise the Brazilian companies that will be participating and help them to understand that there are many possibilities and opportunities of doing business in Ghana and to understand the level of Ghana's agric sector and build a sound and strong business relationship in Ghana" she said.
Ms Gala stressed on the need for Ghana to invest massively in technology to transform the agricultural sector, saying there would be a big change in the country in the next 30 years if focus was placed on technology.
"Many Ghanaians are hard-working and ready to work, but where to focus their effort is the challenge. But Brazil sees Ghana really going up and up and up", she emphasized.