Sao Paulo benefits from Argentina's lack of "legal and economic security"
Monday, July 23rd 2012 - 20:02 UTC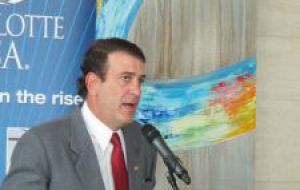 The President of Investe São Paulo -the gateway for companies that intend to settle their operations in the Brazilian state- referred to the ongoing foreign investment boom in the neighbouring country is due in part to the "lack of both legal and economic security that Argentina and its government have."
During an interview with a Brazilian newspaper, Luciano Almeida, said that "there are many cases in which companies wanted to invest in Argentina but finally decided to settle here in Brazil as a result of the legal and economic insecurity created by the current Argentine government."
According to Estado do São Paulo newspaper, Brazil's direct foreign investment (DFI) between January and May experienced a year-on-year increase of 44% as it climbed to 10.3 billion dollars, mostly invested in the industrial sector.
Likewise, as the industrial sector skyrockets based on the automotive industry, foreign direct investments in the services industry fell 52%, while in the telecommunications sector, the DFI edged down by 99.5%.
Investe São Paulo is the gateway for companies that intend to settle their operations in the state, besides stimulating the expansion of businesses that are already settled in São Paulo. The agency provides strategic information free of charge, helping investors find the best locations for their businesses and facilitating the interaction of companies with public and private entities.
Almeida has also remarked that the state of São Paulo "is in many ways bigger than many countries in Latin America. If Sao Paulo was a country, we would be the 20th largest economy in the world. Our GDP is bigger than Argentina or South Africa, the land is larger than England. Sao Paulo has the second largest stock exchange; we have the largest fleet of helicopters in the world. We have strong finance as well as a strong agricultural industry. We have 33% of the GDP of Brazil and 34% of the industrial GDP of the country".