Spanish politician warns cuts are necessary "if we don't want to become another Argentina"
Monday, July 23rd 2012 - 20:21 UTC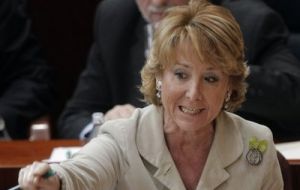 The President of the Community of Madrid, Esperanza Aguirre, has warned about the "difficult" situation Spain is going through, and said "If we don't want to become another Argentina, with a 'corralito' and inflation rates around 20-40%, we must cut the public spending and find the accounts' balance."
"We have to cut all subsidies, though I'm not of the idea of increasing taxes since they are counter productive", Aguirre told reporters on Monday and added: "This is very simple, we can't spend more than what we make."
Likewise, the official stated that "it is necessary to make some cuts at several public offices', which unveils to possible job cuts of civil servants.
"The situation of Spain and of the community of Madrid are very difficult, very hard, and even when a bit better than other regions, it's not an island. And therefore I believe all Spaniards have to be clear about the fact we must cut expenditures", said Aguirre.
She added that it is a matter of cutting outlays in the same proportion as income has dropped, "it's something very simple that all homes practice: don't spend more than what you make"
"We are all well aware that we can't spend more than our income. We must put an end to all subsidies, subventions and government 'suckling'; it's over, we must increase our income", insisted Aguirre who as head of the Madrid Community admitted that "city offices will have to be closed, expenses drastically cut, very painful but necessary".