Chavez in a veiled threat tells Spain's Repsol to seek agreement with Argentina
Tuesday, July 24th 2012 - 20:57 UTC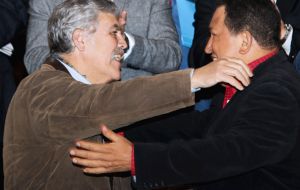 Venezuelan President Hugo Chavez advised Repsol to seek a friendly agreement in its dispute with Argentina and noted that the Spanish energy company held important assets in his country.
Repsol faces a long legal battle after the government of President Cristina Fernandez nationalized its Argentine energy unit, YPF, in April. It has sued for 10 billion dollars in compensation and taken steps to file for World Bank arbitration.
Cristina Fernandez, an ally of the socialist Chavez, said Repsol had not invested enough in YPF and had allowed crude production and exploration to decline.
"I would advise them to think about it very carefully. They should look for a friendly agreement with this brother nation of ours, of South America," Chavez said in a televised speech during a visit to Caracas by Argentina's planning minister Julio De Vido.
Chavez a vocal critic of Washington has nationalized almost all Venezuela's oil industry during his 14 years in office.
"Repsol has big investments here and we want it to continue having them, in an atmosphere of cordiality, understanding and respect for our sovereignty" Chavez said.
Repsol and Italy's ENI signed a major deal last year with Venezuela's state oil company, PDVSA, to develop the Perla offshore natural gas field, where they have certified more than 15 trillion cubic feet.
Repsol also has an 11% stake in Carabobo Project 1 in Venezuela's extra heavy Orinoco crude belt, where reserves are seen at 31 billion barrels and output at 400.000 barrels per day. The company has said it expects to invest 15 billion dollars in Carabobo.
Earlier this year, Chavez strongly backed Cristina Fernandez's move to take over YPF, saying the rest of South America had a duty to support her as well. In 2007, he nationalized four Orinoco projects, prompting US majors Exxon Mobil Corp and ConocoPhillips to sue for tens of billions of dollars.