Chavez unveils 3D image of Simon Bolivar based on his exhumed body
Tuesday, July 24th 2012 - 23:36 UTC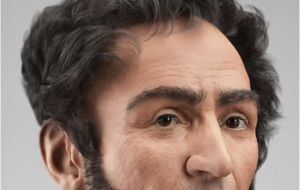 Venezuela's Hugo Chávez unveiled a 3D image of South America's 19th century independence hero Simon Bolivar on Tuesday, based on bones the president ordered exhumed two years ago to test his theory that Bolivar was murdered.

In a ceremony to mark the 229th anniversary of Bolivar's birth, senior government officials and military commanders clapped as Chávez and a group of school children unveiled the new image, which was based on scans of Bolivar's skull.

The populist leader reveres Bolivar - he renamed the country the "Bolivarian Republic of Venezuela" - and has wrapped his leftist "revolution" in the imagery and language of the region's battle to break free of colonial power Spain.

"He was a true giant of the human cause, the human battle ... this is his face," Chávez said, sitting below two giant prints of a life-like depiction of a distinguished-looking Bolivar boasting a gold-braided uniform and prominent sideburns.

"Now we know with precision and receive with infinite intensity the luminous presence of this gaze, this living face."

The president, who is seeking a new six-year term in an Oct. 7 election, also tweeted a link to the image from a mobile phone on his account.

Chávez, in his fight against the "Yankee imperialism" of the United States, repeatedly invokes Bolivar, who is second only to Jesus as a figure of reverence in parts of South America.

Chávez normally gives televised speeches in front of large paintings of Bolivar, a brilliant Venezuelan soldier and military tactician who freed much of South America from centuries of Spanish rule. Chavez ordered a striking new mausoleum built for Bolivar's remains, which will be finished soon.

On Tuesday, he also held aloft two ornate antique pistols for the cameras, saying they had belonged to his hero.