EC criticizes US risk rating agencies handling of the Euro-zone crisis
Thursday, July 26th 2012 - 09:00 UTC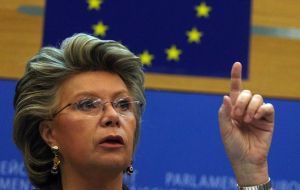 A top official from the European Commission was particularly critical of the credit risk rating agencies in their handling of the Euro crisis and Germany brushed aside the latest rating agencies announcement saying the country is in a very sound economic and financial situation.
"It is interesting to see that whenever the budgetary situation in the US worsens, certain risk rating agencies turn their guns on Europe", said EC Vice president Ms Viviane Reding at a Wednesday press conference.
This week there is an ongoing major clash in the US Congress over fiscal policy with neither party having the sufficient votes to support their position and with little margin for compromise in an electoral year.
This week also Moody's Investors Service changed the outlook on the provisional (P) Aaa long-term rating of the European Financial Stability Facility (EFSF) to negative from stable, a blow to a fund that was supposed to backstop struggling European Union members.
The ratings agency said the move followed on from its decision earlier in the week to change the outlooks for Germany, the Netherlands and Luxembourg to negative. All three countries are guarantors for the EFSF, with Germany holding the largest share at just over 29%.
Further more Moody's also changed the outlook of 17 German banking groups from "stable" to "negative". The institutions affected are those whose financial evaluation depends on the "support of the German Federal State or Landër (federal districts) and communities," the agency stated in a Communiqué.
Ms Reding said that the US sovereign debt is now equal to 101% of GDP and the budget deficit stands at 7% of GDP, while for the European Union the situation is 91% and 3%, respectively.
"Europe has given huge strides and advanced enormously in the last three years in its individual and collective effort to put its finances in order".
"Whatever the US credit rating agencies say, Europe is now on track to budgetary consolidation with the solid German economy as the anchor and with its impressive powerhouse to support it", said Ms Reding.
"Let's not forget that the rating agencies market is dominated by three large US agencies, Moodys', Standard&Poor's and Fitch", added the EC Vice president.
Countering the move by Moody's, Germany's finance ministry said the rating is a short-term view, and the country is "in a very sound economic and financial situation".
"There's a lot of trust in Germany on the international financial markets; this is reflected in the low refinancing costs of German government bonds" was Berlin's official reply.
"Germany will, through solid economic and financial policy, defend its 'safe haven' status and continue to responsibly maintain its anchor role in the euro zone," the Berlin-based ministry said in an e-mailed statement. "Together with its partners, it will do everything to overcome the sovereign debt crisis as rapidly as possible."