Sea Shepherd leader Watson skips bail fearing extradition to Japan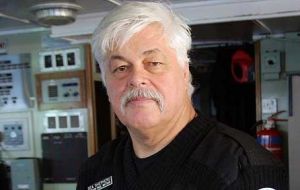 Sea Shepherd leader Paul Watson has skipped bail and fled from Germany, with his supporters claiming they fear he would have been extradited to Japan over Antarctic whaling protests.
Mr Watson, 61, had been detained in Germany for 70 days while Costa Rica applied for his extradition on navigation charges. He was on bail of €250,000 and was required to report to police in Frankfurt.
His flight was confirmed by Susan Hartland, administrative director of the conservation group, who said he had left Germany and was in an undisclosed location.
"We have reason to believe from a reliable source that, once in Costa Rica, the Japanese government may have sought extradition of Captain Watson to Japan to answer charges related to obstructing their illegal whaling activities in the Southern Ocean Whale Sanctuary," Ms Hartland said.
"We have no further information and are not in touch with him," she said. "We will do our best to provide more details as we learn more."
Mr Watson recently told Fairfax Media that extradition papers had arrived from Costa Rica outlining the 10-year-old case against him, and he was concerned at the length of time the matter was taking to resolve.
"They're just going to drag this on," he said. He had been hopeful that Germany would dismiss the case.
"I don't think the German government is going to go along with this," he said. His sudden departure came about 20 days short of the expected time limit for proceedings to be completed.
"His attorney now says that his client informed him by telephone that he has left Germany for an unknown destination," the Hesse regional court in a statement, noting that Mr Watson failed to report to authorities since Sunday.
Shortly after his arrest in May, Sea Shepherd issued a statement saying Mr Watson was filming a documentary at the time of the alleged incident, which took place in Guatemalan waters in 2002.
The group said it encountered an illegal shark finning operation run by a Costa Rican ship, the Varadero, and told the crew to stop and head to port to be prosecuted. The crew accused Sea Shepherd of trying to kill them by ramming their ship.
Mr Watson has a history of confrontations with whalers and fishermen. He left Greenpeace in 1977 to set up the more action-oriented Sea Shepherd.
The group has waged aggressive campaigns to protect whales, dolphins and other marine animals, prompting Japanese officials to label its member "terrorists" and to seek Mr Watson's arrest for allegedly masterminding violent protests.