"Veggie" diet blamed for poor performance of China's women volleyball team
Friday, July 27th 2012 - 23:59 UTC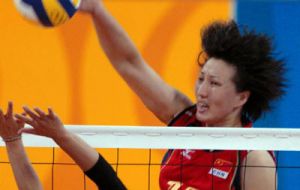 Fearing tainted meat, China's women's volleyball team has stuck to a strict vegetarian diet for the last three weeks, which the team's coach is now blaming for his athletes' abysmal performance.
The Chinese team lost four of five matches at a world tournament that ended Sunday in Ningbo, China, falling to the United States, Brazil, Turkey and Thailand.
While Brazil and the US are powerhouses in women's volleyball, Turkey and Thailand didn't even qualify for the 2008 Olympics, where China won bronze.
"They have showed significant decline in their strength and fitness" coach Yu Juemin said of his squad after Sunday's defeat to the US. "We are wary of meat tainted by lean-meat powder, and we didn't eat any during the game period," Yu told the Shanghai Daily newspaper.
All Chinese athletes have been warned by the country's Sports Ministry to avoid meat contaminated with the powder, also known as clenbuterol, because it's banned by the International Olympic Committee as a performance-enhancing substance.
China bans the use of clenbuterol in livestock because of the chemical's noxious long-term effects on human health, but many pork farmers still administer it because it produces leaner meat. The World Anti-Doping Agency issued a warning last year about clenbuterol-tainted meat in China as well as Mexico, where it is also rampant.
As a result, the Chinese volleyball team only eats meat at its training camp, where the food can be tested for contamination. When players go elsewhere in the country, they have to forego pork, beef and lamb — as they did in the lead-up to the volleyball World Grand Prix finals tournament.
Some other Chinese athletes are coping by eating more fish and chicken and supplementing their diets with protein powder. Earlier this year, a Chinese pig farmer donated three tons of clenbuterol-free pork to his country's athletes.
Coach Yu said his volleyball players would have access to ample supplies of untainted meat in the run-up to the Summer Olympics, which begin July 27 in London.
Clenbuterol is approved as an asthma drug in some countries because it helps dilate the bronchial tubes.
It is also the substance that cyclist and two-time Tour de France winner Alberto Contador tested positive for in 2010, leading to his being stripped of his victory in that year's race and banned from competition until August. In ruling against the Spaniard, the Court of Arbitration for Sport said it was possible, but not likely, that he consumed the clenbuterol accidentally via contaminated veal. (Argentine Beef Packers S.A.)