Cuba says dead dissident's car ignored signals and was speeding when it crashed
Saturday, July 28th 2012 - 03:35 UTC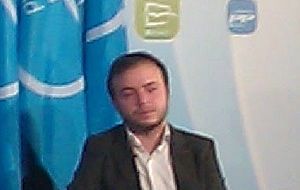 A Spanish politician was to blame for a car crash that killed two Cuban dissidents, including Oswaldo Paya, Cuba said on Friday in a report on an accident that has raised suspicions among opposition activists and some foreign governments.
The preliminary report, based on the testimony of three eyewitnesses and the Spanish driver Angel Carromero Barrios, said Carromero did not heed a series of signals to slow down for repair work on the road and lost control of the car.
It estimated the car was travelling at 120 km per hour at the time of the accident. The posted speed limit was 60 kph.
Paya, the 60-year-old leader of the Christian Liberation Movement, and fellow dissident Harold Cepero were killed in the crash on Sunday in eastern Granma province. Both were riding in the back seat and neither wore a seatbelt, the report said.
Along with Carromero, the vice president of Spain's ruling Popular Party's ""New Generations" movement, Swedish politician Aron Modig, chairman of Sweden's Christian Democrats' youth wing, was riding in the front seat. Both had their seatbelts fastened.
The two foreigners escaped relatively unscathed from the crash and remain in the country as the investigation continues.
The report indicated possible criminal charges were being considered. The report's conclusion that Carromero was to blame for the accident suggested that he could face charges of reckless driving and involuntary manslaughter.
Paya's death caused consternation within dissident circles and among Cubans living abroad and some foreign governments. His family has repeatedly questioned whether his death was due to an accident, and alleged that the car may have been run off the road.
"Angel Carromero declared ... that he did not remember seeing the signals warning of the state of the road. He added that when he entered the road under repair at a speed he could not recall ... he braked hard in an effort to slow down and the car began to slide to the side until it hit a tree," the report said.
"(Modig) declared he was sleeping when he felt the breaking and the car slide to the side, after which he lost consciousness," it added.
The report cited a tractor driver and cyclist who were travelling in the same direction as the ill-fated vehicle. Both said it was moving at excess velocity, passed the tractor, hit the unpaved part of the highway and crashed.
A witness driving in the opposite direction concurred with the report.
Carromero had been driving for eight hours at the time of the accident, having left Havana at 6 a.m. (1000 GMT).