Argentina denies plans to intervene the energy sector: "only ensuring investments"
Monday, July 30th 2012 - 07:19 UTC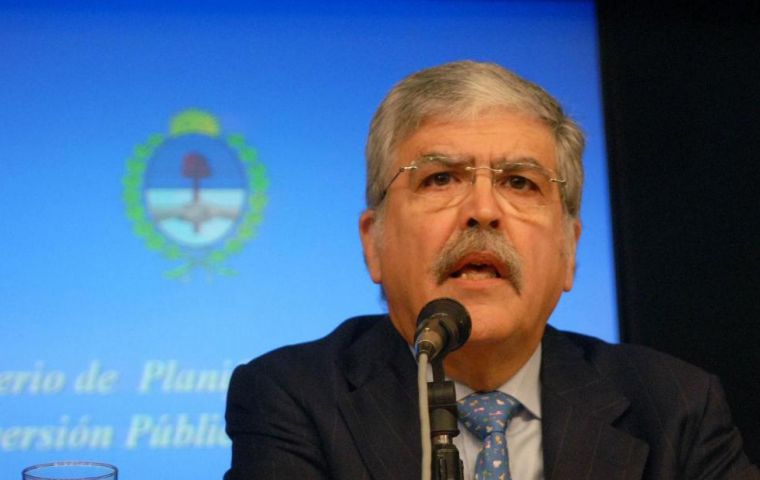 Planning Minister Julio De Vido denied that the Government plans the "intervention" of the energy sector and clarified that "we demand investment and production plans. This is not an intervention, simple more planning."
De Vido added that the reference cost of fuels "will be defined within the framework of the economy in general, because it affects the cost of goods," and said that energy production is a matter of national interest.
Deputy Economy Minister Axel Kicillof, who masterminded the nationalization of leading oil company YPF, will oversee an energy investment plan that tightens control over private companies, the government said last Friday.
Oil companies operating in Argentina will have to present an annual investment plan, and they could face fines or other sanctions, such as the withdrawal of concessions, if they fail to comply, a decree in the Official Gazette showed.
Decree 1277 establishes the criteria that will rule operations in the domestic market and mandates the periodical publication of reference prices for each of the costs' components, plus reference sale prices for hydrocarbons and fuels.
The prices will cover the costs of oil production plus "a reasonable profit margin".
The purpose of such a decree to adapt the activity of a sector "to the national plan of hydrocarbons investments" which will have as strategic axis the increase and maximization of investments in exploration, exploitation, refining, transport and hydrocarbons trading in such a way that it ensures self-supply.
The decree is part of the implementation of the Hydrocarbons Sovereignty Bill approved last May and which opened the way for seizing 51% of YPF from Repsol, based on the argument that the Spanish corporation was not investing sufficiently.
The bill declares of national public interest achieving self sufficiency of hydrocarbons, its exploration, production, industrialization and transport and trading.
Argentina's fuel imports' bill is expected to climb to 12 billion dollars in 2012, three times as much as in 2010.