Cristina Fernandez "wonder boy" saves in dollars and has property in Uruguay
Monday, July 30th 2012 - 21:39 UTC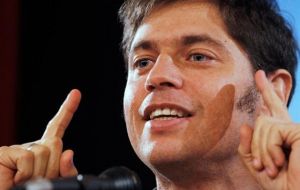 Argentina's Cristina Fernandez "wonder boy" seems to be missing on his homework. According to the Argentine media Economy Deputy Minister Axel Kicillof not only has his savings in US dollars but owns real estate in Uruguay, which Argentina considers an overseas fiscal paradise.
The data was collected from the presentation of his first assets' sworn statement before the Argentine Anti-corruption Office and according to Perfil.com says Axel has assets totalling 688.013 Pesos, approximately 140.000 dollars, which includes 37.000 dollars in a bank account.
Less than a month ago President Cristina Fernandez called on her ministers to "Pesify" their savings in dollars, in line with the clamp on greenbacks holdings implemented by the Argentine government since October last year.
The President also pledged to have a 3 million dollars savings account converted into Pesos. Nevertheless until a few weeks ago her boutique hotels in EL Calafate, Patagonia, were charging in US dollars as proved by an in-situ television report.
The "fortune" of the wonder boy consists mainly of a house of 145 square metres in the middle-class neighbourhood of Parque Chas which he purchased in 2009 for the sum of 40.000 dollars, according to Perfil.com.
The assets of Axel, 41, also include a house in the river resort of El Ensueño across the River Plate in Colonia, Uruguay, which he purchased in December 2005 paying at the time 3.000 dollars, according to the statement, to which he added an adjoining plot of 420 square metres. He also reformed the house investing the equivalent in Uruguayan Pesos of 12.000 dollars.
The one car family vehicle has a Renault 1-6 Scenic from 2008 which Axel shares with his wife and two children.
Finally Axel has bank accounts, both savings and cash equivalent to 240.214 Argentine Pesos, of which in dollars 37.000.
Since Vice president and economist Amado Boudou fell into disgrace given the alleged corruption scandals involving him and friends through ghost companies, Kicillof has emerged as the rising star in Cristina Fernandez cabinet, becoming her main advisor in economic and financial affairs.
He is believed to have masterminded the YPF majority stake seizure from Spain's Repsol, the current US dollar clamp to force Argentines to save in Pesos and appealing to protectionist measures as part of the overall view of a planned economy to promote domestic industry and jobs.