HSBC puts aside 2 billion dollars to cover possible money-laundering fines
Monday, July 30th 2012 - 23:35 UTC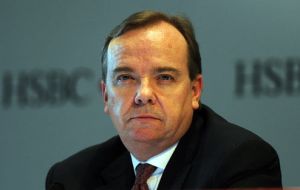 HSBC has put aside 2 billion dollars to cover potential mis-selling claims and money-laundering fines as it announces a sharp rise in first-half profits.
Pre-tax profit for the first six months of 2012 was 12.7bn, up 11% on the 11.5bn the bank made a year ago. The profits were boosted by 4.3bn of asset sales in the US.
The bank is setting aside 1.3bn to cover UK mis-selling compensation and 700m for any US fines following money laundering accusations.
The 1.3bn covers 1.06bn for the mis-selling of payment protection insurance (PPI) and 240m to cover sales of specialist interest rate protection products to businesses.
The 700m set aside for money laundering follows a US Senate report published earlier this month, which found that lax controls at Europe's biggest bank had left it vulnerable to being used to launder dirty money from around the world.
"What happened in Mexico and the US is shameful, it's embarrassing, it's very painful for all of us in the firm," chief executive Stuart Gulliver told reporters on a conference call following the results.
"We apologise for our past mistakes in relation to anti-money laundering controls, and it is a priority for senior management to build on steps already taken to manage risk and ensure compliance more effectively," he added.
The bank did not set aside provisions for any fines relating to the fixing of the inter-bank lending rate, Libor, but said it was co-operating with investigations by the regulatory authorities.
Last month, Barclays was fined £290m by UK and US regulators for giving false Libor submissions and other banks are expected to be caught up in the scandal.
Analysts said HSBC's results were slightly better than expected.
"HSBC has added to the emerging theme of the banking updates so far - strong headline performance partially offset by corporate contrition," said Richard Hunter at stockbroker Hargreaves Lansdown.
"The money laundering investigation in the US adds to the burden of the PPI debacle, with the bank also involved in the interest rate swap mis-selling and there is yet to be confirmation of the extent to which it may be involved in the Libor investigation."
Profits in the first half of the year were boosted by 4.3bn of asset sales, including the sale of its Card and Retail Services business and 138 branches in the US.
The sales form part of a continuing strategy to streamline the bank's operations, which also includes cutting its global workforce dramatically. The bank said it now employed 271,500 full-time staff, compared with 299,000 in the first quarter of last year.
Underlying first half profit at the bank fell by 3% to 10.6bn, while underlying revenue rose by 4%, thanks to strong growth in China, India, Brazil and Argentina. Revenue growth was driven by investment and commercial banking.
The bank said it believed growth in emerging markets would continue at a "reasonable pace", while economic conditions in Europe and Western economies would remain "subdued". It also forecast that the eurozone economy would contract this year.