PM Rajoy not handling the economic crisis, say 80% of Spaniards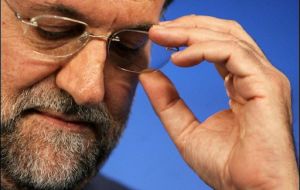 Support for Spanish Prime Minister Mariano Rajoy fell sharply in July after his government announced a new round of deep spending cuts and tax hikes to fight the sovereign debt crisis, an opinion poll showed.
The Metroscopia poll published monthly in left-leaning newspaper El Pais shows that if a general election was to take place now, the ruling People's Party would still win with a 30% share of the vote but it would only retain a 5.3 percent points advantage over the Socialist opposition, down from 15.9 points in the November vote.
Since Rajoy won the elections by a landslide last year, Spain has become the new frontline of the 2-1/2-year debt crisis and the government has implemented several packages of structural reforms and austerity measures, the latest worth 65 billion Euros until 2014.
It is also trying to rein in its indebted regions' finances and requested in June a 100 billion Euros European lifeline for its crippled banks while investors, unnerved by soaring debts and the bad state of an economy set to be in recession until well into next year, sent the country's borrowing costs to new euro-era highs.
Hundreds of thousands of Spaniards marched in July in demonstrations against the government's latest reforms and civil servants have been protesting daily in the main cities of the country after their pay and perks were cut.
The 25-26 July poll showed 80% of Spaniards now had little or no confidence in Rajoy, with 72% saying he is not being efficient to fight the economic crisis.
While 74% of the 1,000 people interviewed say they have a negative view of the government, the Socialist opposition which after eight years in power is seen as bearing a huge responsibility in the crisis, is not seen as gaining from the PP's fall.
The socialist PSOE would get only a 24.7% share of the vote if an election was organized now, down from 28.7% in the November vote.