Punta Arenas largest single industry leaves for Louisiana: insufficient gas supply
Monday, July 30th 2012 - 07:08 UTC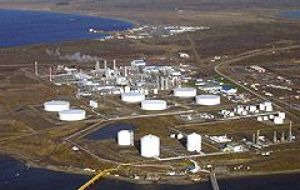 The world's largest supplier of methanol, Canadian-based Methanex, will invest 550 million dollars to relocate a methanol production plant from the extreme south of Chile to a 225-acre site in Geismar, Louisiana.
The plant should be in production by 2014. The dismantling of the four module processing plant in Punta Arenas has already begun and will be shipped to their new location in Louisiana.
Methanol is increasingly used as a clean-burning alternative fuel in the energy sector, including direct gasoline blending, dimethyl ether and bio-diesel.
"The outlook for low North American natural gas prices makes Louisiana an attractive location in which to produce methanol," said President and CEO Bruce Aitken of Methanex.
"It is also a large methanol-consuming region, possesses world-class infrastructure and skilled workers, and is a positive environment in which to do business." Methanex expects to break ground on the project in September 2012. Construction is set for completion in late 2014.
According to Louisiana Economic Development, rising demand for methanol, along with Louisiana's competitive natural gas prices, positive business climate and chemical industry infrastructure, combined to attract the project to Ascension Parish.
In addition to ready supplies of natural gas, Ascension Parish provides easy access to barge, rail and interstate highway transportation, economic development officials said.
However joy in Louisiana is very bad news for Punta Arenas in the extreme south of Chile where jobs are not abundant and the corporation when it was launched in the nineties promised to become one of the leading industries of the region.
And so it was for a few years supplied with natural gas from neighbouring Argentina. But then the Kirchner couple arrived and ignoring international contracts gave preference to the domestic market thus endangering the future of the plant which had to successively shut three out of four production modules.
Magallanes region gas production is insufficient and recent discoveries have been too slow in developing.