Russian tycoon super-yacht, valued in 300 million dollars visit Gibraltar
Monday, July 30th 2012 - 10:02 UTC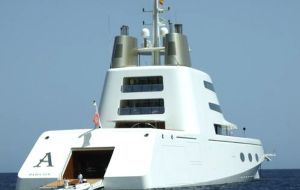 Super-yacht "A" recently paid a visit to Gibraltar joining a list of many famous yachts to call at the Rock. She is owned by Andrey Igorevich Melnichenko, a 40 year old Russian businessman and billionaire who was born in Belarus.
Rumoured to cost 330 million dollars, motor yacht A is called after his wife Aleksandra, it took four years to build and it sits comfortably in the list of top 100 largest yachts in the world at 119metres long. Designed by Philippe Starck and Martin Francis, it was built by German shipbuilders Blohm+Vos, at the HDW shipyard in Kiel, Germany and it weighs approximately 5.500 tons.
According to Forbes, Mr Melnichenko is reported to be worth 10.8 billion dollars and is the World's 81st richest person, who owns 75% of Russia's largest independent coal producer, as well as Eurochem, Russia's largest and one of the top world producers of mineral fertilizers.
He married his partner Aleksandra Nikolic in 2005, in a wedding reception reported to have cost 30 Million dollars. For that money there were performances by the late Whitney Houston, Christina Aguilera, and Julio Iglesias. Rumours also said that he had a Russian chapel dismantled, transported and rebuilt in the Cote d'Azur for the wedding.