Increase of non resident deposits in Uruguayan banks
Tuesday, July 31st 2012 - 01:58 UTC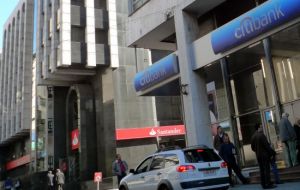 The number of bank accounts of non residents in Uruguay climbed 14% in June compared to a year ago, --6.769 new clients--, which is higher than the increase verified for the whole number of residents and non residents, up 2%, according to Uruguay's central bank data.
The total number of foreigners with deposits in Uruguay to June 2012 totalled 54.557 or 3% of the total 1.738.274. Compared to last December the number of non residents with deposits in Uruguayan banks was up 5%, or 2.768 clients.
In money terms the savings of non residents in financial groups, measured in Uruguayan Pesos increased 28% year to year, although if measured in US dollars growth was considerable lower 7%.
The total non resident deposits to June were 3.398bn dollars compared to 3.171bn a year ago, according to Central bank stats. Last December they stood at 3.222bn dollars which means that in six months 176 million dollars arrived in the country.
As to the geographic distribution of foreign holders of deposits in Uruguayan banks, to June the majority was in Montevideo (57.6%), followed by Maldonado (17.9%); Colonia (14%) and Salto (2.8%).