Second risk rating agency upgrades Uruguay to investment grade
Tuesday, July 31st 2012 - 22:22 UTC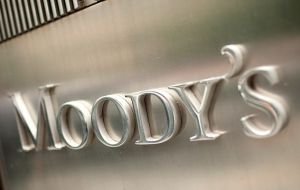 Moody's Investor Service upgraded Uruguay's sovereign ratings from Ba1 to Baa3, following Standard & Poor's upgrade announced on April.
The rating action, announced on Tuesday, was applied because of the "credit profile that, in general terms, has come in line with that of Baa-rated investment-grade countries."
The upgrading from Ba1, the last category of speculative to Baa3, means Uruguay is back, after ten years, at the first step of investment grade.
Moody's assured that a "steady improvement in Uruguay's fiscal metrics coupled with a significant strengthening of the government's balance sheet," and also a key was the "reduced credit vulnerabilities to regional shocks in light of increased diversification and ample liquidity buffers."
The ratings agency backed its decision by stating that the country headed by President José Mujica has registered an "annual growth of more than 6% during 2004-2011"; in the same period it has shown "an upward shift in total factor productivity" and "government deficits have been on the order of 1% to 2% of GDP."
Moody's highlighted that the Uruguay's government's debt ratio has dropped below 40% of GDP after "reaching nearly 80% in 2004", following the 2002 crisis that spilt over from Argentina.
In 2001/2002 the Argentine economy melted, the financial system went bust, GDP contracted 20% and unemployment soared to over 25% plus a huge devaluation of the Peso currency. The impact of the Argentine situation and massive default had a contagion impact on Uruguay.
Uruguay did not default, honoured debts and with the help from the US Treasury and the IMF climbed out of the situation in 18 months.
Earlier this year, Standard and Poor's had also upgraded Uruguay's credit rating.
According to S&P in the Latin American region there are four groups of countries. In the first, with A+ is Chile: slow but solid economic growth and virtually no financial risk. Chile has more assets than liabilities when it comes to international reserves, a negative debt equivalent to 8% of GDP, and a budget surplus above 1% of GDP.
A second group according to S&P have an adequate capacity to address financial obligations, but with a solvency that could be "weakened" before an adverse scenario. These countries are rated BBB and is made up of Brazil, Mexico, Panama and Peru and followed by Colombia and Uruguay.
Although Brazil and Uruguay have similar debt/GDP ratios and Brazil's budget deficit is double (2.6%) that of Uruguay with 1.3% of GDP, Brazil is the Latin America's largest economy, has a strong capital market and is less exposed to the US currency and regional trade.
The third group has Paraguay and Costa Rica with BB, considered speculative. Landlocked Paraguay's dependency on the region and the need of capital and Costa Rica's budget deficit of 5.6% of GDP, imply far more risks.
Finally in the tail group are Argentina, Bolivia, Ecuador and Venezuela with B. They are currently honouring their debts but the risk of non payments is far greater. To their economic and financial vulnerabilities must be added political uncertainty and institutional weakness which does not guarantee these governments will give priority to debts if faced with an adverse context.