Uruguay and NOAA work in programs to track sharks and sea turtles
Tuesday, July 31st 2012 - 00:54 UTC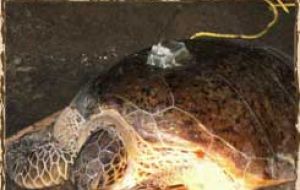 Uruguay with the help of the US National Oceanic and Atmospheric Administration (NOAA) is becoming a pioneer in the marking and tracking of sharks and turtles in the western South Atlantic, which allows to establish migrating routes and other valuable data for the protection of these species.
The program between Uruguay's Aquatic Resources office and NOAA consisted in sticking tracking transmitters to several blue sharks (Prioance glauca) which are picked up by satellites with all the information about geographical position, depth, sea temperature and other variables as they move around in the western South Atlantic.
Some transmitters after some time or at certain depths float to the surface and begin transmitting the collected data to the satellite. Other transmitters fixed to the shark' fins send information at real time when they emerge to the surface of the ocean.

Under the program NOAA supplied the transmitters which have a unit cost of 4.000 dollars plus the necessary programs to process all the data collected by the satellites.
A similar program has been operational for four years with transmitters stuck to the turtles shell and work in a similar way that with sharks.