Uruguay expects to plant a record area of soybeans this coming season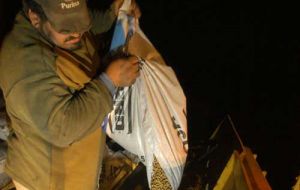 The soybean area and crop of the next harvest in Uruguay is expected to establish a new record with an additional 10% acreage, totalling over a million hectares boosted by excellent international prices and good weather prospects, according to reports from local grain and oilseed operators.
"Prospects are very good, particularly taking into account a good climate year (2013) which will help yields. This together with an increase in the area planted, 10% should give us a record crop" said Miguel Carbajal president of the Uruguayan association of direct sowing.
Another local factor is that many farmers which have abandoned wheat left their fields fallow and ready for the first summer crop of soy. The early soy, usually have higher yields.
However regarding soy prices Carbajal said that the over 600 dollars per ton of these weeks is not necessarily sustainable and will not be available when the southern hemisphere harvest is ready. On the contrary "in a few months when the area to be planted in Mercosur countries is known, we can expect a fall in prices, which nevertheless they will be historically encouraging".
Carbajal also mentioned freight costs which will affect the area with sorghum. "Freights are so costly that it is always more profitable to have a more expensive crop than a cheaper one, and this obviously will also be an additional impulse for soybeans since freight will represent a lesser percentage".
Even areas of Uruguay traditionally for breeding cattle are expected to move to soybeans since at current prices they can best absorb freight costs and lesser yields, explains Mathias Mailhos from the National Agrarian Cooperative, Copagran.
"Although the increase in soy area is interesting, above 100.000 hectares, the good agriculture area is totally absorbed and in those places where cattle ranching or dairy farming could be displaced that has already happened" and this means that the increase in soy area, and to a lesser extent corn area, will be at the detriment of other grains such as sorghum indicated Mailhos.
"When the value of a commodity soars it's fantastic. We're going through the only favourable drought which is that suffered by other markets and pushes prices up, in this case soybeans" points out Marcos Gigou president of Agronegocios del Plata. But even when costs can also be expected to increase, "they will also climb but to a lesser extent" and it can be managed.