Brazil will open social automatic cashiers for the exchange of foreign currency
Wednesday, August 1st 2012 - 07:38 UTC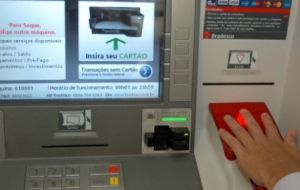 In anticipation of the 2014 World Cup and the 2016 Olympics, Brazil has decided to simplify foreign money exchange for residents and tourists through the use of specific automatic cashiers in pre-determined places.
The Brazilian central bank announced that according to the latest resolution residents and foreigners can exchange the local currency Real for US dollars in the automatic cashiers of banks with no other presentation than the ID.
The initiative approved last week by the Central bank monetary council will be implemented by government and private banks interested in offering such a service. For that purpose those banks will have to install special automatic cashiers which will exchange Reales for dollars or greenbacks for the local currency, operations that will be done with magnetic cards.
Contrary to Argentina or even Uruguay where the US dollar is used as a second currency particularly in real estate and by auto dealers, in Brazil there is no such demand since there is a clear predominance of the local currency in the huge 190 million people market.
"Liberalizing foreign currency operations with credit cards for the purchase or sale of dollars is done ahead of the 2014 World Cup, making it much easier for tourists and residents to buy and sell currency", said Geraldo Magela Siqueira from the central bank.
Operations for the purchase of dollars or Euros with Real or the other way round in the automatic cashiers will be made available with a maximum of 3.000 dollars per operation indicated Magela Siqueira.
"The automatic cashiers will work just as normal cashiers in banks but with the sole purpose of exchanging money", pointed out the Central bank official. However bills will have to be introduced before receiving the exchanged value in another currency.