Venezuela purchases 20 commercial aircraft from Brazil in a 900m dollars deal
Wednesday, August 1st 2012 - 05:09 UTC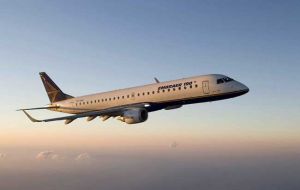 Venezuela signed on Tuesday an agreement to purchase 20 commercial aircraft from Brazil's Embraer in an operation valued at 900 million dollars
The deal was sealed on the sidelines of the Mercosur extraordinary summit for the inclusion of Venezuela as a full member of Mercosur.
Brazilian president Dilma Rousseff and her Venezuelan peer Hugo Chavez attended the ceremony which contemplates the delivery of the first six aircraft before the end of the year, valued at 270 million dollars.
The E-190 is a mid range commercial aircraft which can carry between 98 and 114 passengers and has become a success in several Arab countries. The E-190 in its several versions has been sold to 60 airlines in 42 different countries.
The contract includes an additional 14 aircraft of the same model "with a total value of 900 million dollars when all the purchase options are confirmed and completed" according to the contract. The aircraft are for Venezuela's national airline Conviasa.
At the ceremony the Venezuelan president was given a scale model of the E-190.