Argentina presents official protest to UK over Malvinas cemetery vandalism
Thursday, August 2nd 2012 - 06:15 UTC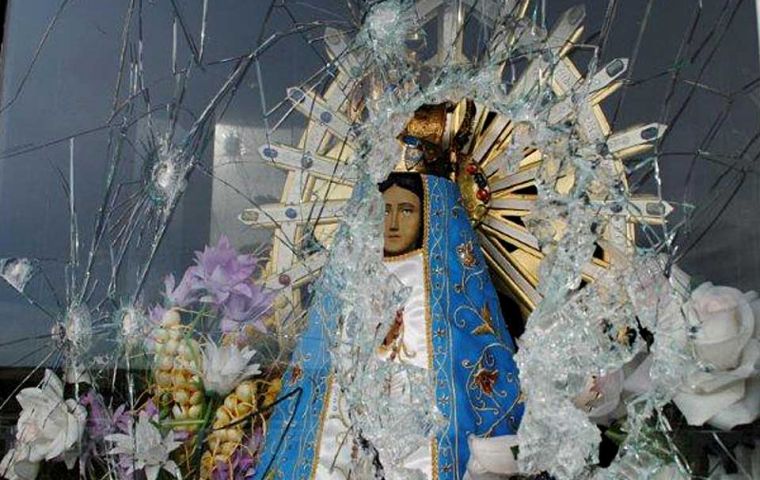 The Argentine foreign ministry confirmed in a release that it had delivered an official protest to the United Kingdom repudiating "the profanation of the monument" in Darwin, Falkland Islands, to the memory of the Argentine combatants killed during the 1982 Malvinas war.
The Wednesday release states that Argentina is "strongly convinced that through dialogue and respect for United Nations resolutions acts of vandalism such as those we are today deploring could be avoided and neutralized".
The release concludes calling for negotiations on the Falklands and reaffirming Argentine sovereignty over the Malvinas, South Gerogia, South Sandwich and adjoining maritime spaces.
Earlier this week the government of the Falkland Islands government reported that the local police was investigating acts of vandalism committed at the Argentine memorial in Darwin, and that it had also informed of the incident to the Malvinas Families Commission in Argentina, whose members regularly visit the cemetery.
The Falklands release signed by MLA Dick Sawle strongly condemned "any action of this sort and very much regret that this might have happened".
It was later confirmed that the safety glass pane protecting the hermitage of the white-blue Virgin of Lujan, Argentina's patron saint, had been bashed several times.
The Memorial at Darwin holds the remains of 238 Argentine soldiers killed during the conflict.
Reacting to the incident the Malvinas Families Commission said that "an act of profanation" had been suffered by the statue, and that the cemetery had been "the victim of an act of vandalism, the responsibility for which is still unknown."
"Our group has sent statements to Foreign Minister Héctor Timerman and British Ambassador to Argentina John Freeman, so that both may guarantee an urgent and exhaustive investigation of the profane act committed against the monument to Argentine soldiers who fell in 1982," said the statement.
"We believe the incident reflects escalating hostility by certain British sectors that are influential locally," continued the statement. "We will not rest until this repugnant act of sacrilege is clarified".
The British Foreign Office also made a statement on Tuesday:
"We condemn this act of vandalism. All war memorials should be treated with the deepest respect," said a spokesperson, who added that "the Argentine Families Commission has been contacted and is making arrangements to repair the damage."
Images of the damage show the glass was broken by more than a dozen sharp blows. The Virgin, whose blue and white garments are the only expression of Argentine pride permitted in the Falklands, has been removed to protect it from the elements until the shrine can be repaired.