Swedish authorities turn down offer to question Assange in Ecuadorian embassy
Thursday, August 2nd 2012 - 06:40 UTC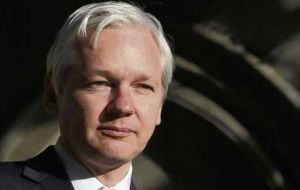 Ecuador wants to prevent Julian Assange's extradition to Sweden because it is disappointed that the Scandinavian country has turned down an offer to question the WikiLeaks founder in the Ecuadorean Embassy in London, a minister said on Wednesday.
Assange has been holed up in Ecuador's Embassy in London for six weeks as he awaits a decision on his asylum request by the leftist government of Rafael Correa.
The Australian anti-secrecy campaigner, who angered Washington in 2010 when his WikiLeaks website published secret US diplomatic cables, is wanted for questioning in Sweden over sex crime allegations. He fears that if he is sent to Sweden he could be bundled off to the United States.
Ecuador has long said that it will take as long as needed to make a thorough analysis of Assange's asylum request before making a decision. Foreign Minister Ricardo Patiño on Monday vowed to wait until the end of the London Olympic Games on Aug. 12 to announce a decision.
He said Ecuador had invited Swedish authorities to question Assange in the Ecuadorean Embassy in London, which could give the former computer hacker a chance to avoid extradition to Sweden.
But following a meeting with Correa on Wednesday Patiño said he had "unofficially" learned that Sweden had turned down the offer. He said he was disappointed about Sweden's decision because it "makes the situation more complicated."
"This makes it more difficult for us to make a decision that would mean that Mr. Assange would have to travel to Sweden," Patiño told reporters outside the presidential palace.
Patiño did not say if Ecuador is now more inclined to grant political asylum to Assange, but said his country's decision will seek to protect Assange's life and his right to freedom.
"This will be a factor to consider in the decision we have to make. Had we had a positive answer from the Swedish government then we would be considering taking a different kind of decision," Patiño said.
Sweden's foreign ministry declined to comment, but a Swedish prosecution authority spokesman said prosecutor Marianne Nyh had turned down an offer to interrogate Assange in Ecuador's Embassy in London.