Bank of England waiting for the latest stimuli measures to filer into the economy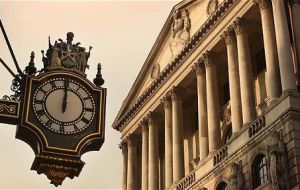 The Bank of England has kept interest rates on hold for August, and also held off from any more stimulus measures, as had been expected. Its rate-setting Monetary Policy Committee (MPC) has voted to maintain rates at the historic low of 0.5%.
It also decided not to increase its programme of quantitative easing (QE), having lifted it by £50bn last month. Under QE the Bank pumps fresh money into the banking system to try to boost lending and thus the wider economy.
Following last month's additional £50bn, the total value of the Bank's QE program now stands at £375bn.
The Bank said in a statement that its QE programme would "take another three months to complete", and that its scale would "be kept under review".
Anna Leach, head of economic analysis at the Confederation of British Industry business organisation, said the Bank's latest decisions were expected because of the recent extension of QE.
"However, the outlook for the UK economy remains fragile, particularly in light of the disappointing official data for the first half of the year and the recent slowdown in global momentum," she said.
The UK recession deepened between April and June, with output falling by 0.7%, official data released last week showed. This contraction was much bigger than expected, and followed a 0.3% drop in the first three months of the year.
On Monday, the Bank of England and the Treasury launched a new scheme to increase lending to households and companies.
Under the Funding for Lending initiative, the Bank of England is initially expected to lend about £80bn at below-market rates to banks and building societies. But this could rise as the scheme progresses.
The brief release from the BoE said that "the Monetary Policy Committee today voted to maintain the official Bank Rate paid on commercial bank reserves at 0.5%. The Committee also voted to continue with its program of asset purchases totaling £375 billion, financed by the issuance of central bank reserves.
"The Committee expects the announced program of asset purchases to take another three months to complete. The scale of the program will be kept under review.
The Committee's latest inflation and output projections will appear in the Inflation Report to be published on Wednesday 8 August. The minutes of the meeting will be published on Wednesday 15 August."