ECB disappoints but keeps markets' expectations of bold actions alive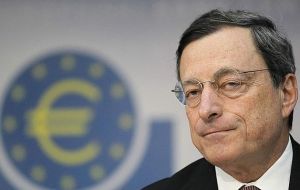 Asian shares and the Euro eased on Friday as the European Central Bank, as happened with the Federal Reserve on Wednesday, disappointed markets looking for an imminent move to deal with the Euro zone debt crisis.
Investors are expected to be looking on Friday at the key US non-farm payrolls data for July, with job creation of less than the 100.000 forecast likely to boost hopes the Fed, which on Wednesday made no new announcement on its current monetary policy, would embark on further easing as early as next month.
The Euro traded at 1.2176 against the US dollar, not far from a one-week low of 1.21335 touched after investors assessed ECB news on Thursday.
Expectations for bold actions are running high after ECB President Mario Draghi on Thursday last week vowed to do whatever it takes to preserve the Euro.
The ECB, after keeping interest rates steady, indicated it may resume buying government bonds to drive down surging Spanish and Italian borrowing costs, but passed the baton back to Euro zone governments by saying they must act first.
Draghi hinted that any intervention would not come before September, and only if governments activated the Euro zone's bail-out funds to join the ECB in buying bonds, but he said the bank would consider other "non-standard" measures, hinting at quantitative easing.
By noting signs of an economic recession spreading across the continent, Draghi also left the door open for future rate cuts.
US and European shares fell on Thursday, but Euro zone bank shares and Spanish stocks were still up since Draghi pledged to help the Euro last week, while Europe's volatility index V2TX fell 6% on Thursday.
The Fed said at this week's meeting that it is prepared to act if the economy deteriorates further, and economists say the US central bank is buying time to lay the groundwork for further monetary easing possibly at its September 12-13 meeting.