Argentine industry lobby blast devaluation but demand more competitiveness
Monday, August 6th 2012 - 07:47 UTC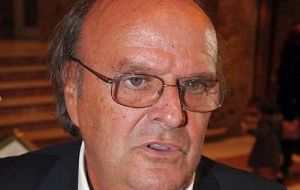 Argentine Industrial Union head José Ignacio de Mendiguren says he wholeheartedly agrees with President Cristina Fernández criticism to those who back a devaluation of the Peso, in an interview with Ambito.com.
"I share (that vision) and I've always said so. When the competitivity problem is not attacked in a systematic and permanent manner, they appeal to the 'magic' of devaluation or to indebtedness- I wholeheartedly agree with the President's viewpoint. To avoid this we must solve competitivity issues regarding, among other, the development of logistics, infrastructure, energy and labour legislation," he assured.
De Mendiguren also expressed his satisfaction with the payment of the final instalment of the dollar-denominated Boden 2012 and said that the fact it was paid in cash "is a positive sign" and sends a very strong message when the global financial system in under intensive care.
"I hope the Government continues down this path, with the President visiting the City Stock Exchange, where the so called Argentine 'establishment' is based".
However the head of the manufacturers lobby also pointed out that there was a "perception lag" in Argentine and world public opinion about the Argentine macroeconomic figures, "which are good but somehow they are not correctly communicated". He specifically mentioned the debt/GDP ratio, the policy to drastically bring down indebtedness and profit levels for the different industries and services in Argentina, "as were announced by the President during her presentation".
Further on De Mendiguren questioned the Argentine Rural Society, SRA chairman Hugo Biolcati, whom he said "is on the campaign trail, which I understand, but he should not use his relations with other business chambers and put them in the same basket. He and I have very different views on what the country should be and how it should be managed and developed"
De Mendiguren said he favours a positive relation between the camp and industry, but "I believe Mr. Biolcati and some rural groups have a vision from the past and think that Argentina can only live off the exports of cereals and beef. I disagree with that vision. I have the best of relations with other farmers' organizations and cooperatives".