Slowdown in Latin America further exposed vulnerabilities of Spain and Portugal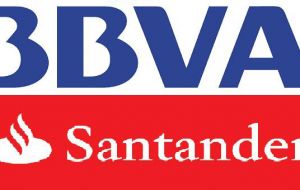 The slowdown in Latin America's once booming economies could take a heavy toll on profits for Spanish and Portuguese companies whose two-decade investment spree abroad has provided a lifeline during a deepening crisis at home.
The region accounts for almost 15% of Portuguese companies' revenues, and the equivalent figure for Spain is 33%, the highest in Europe, according to Morgan Stanley.
For the likes of utility EDP or oil explorer GALP of Portugal, and Telefonica and lender BBVA in Spain, Latin America generates over half of group sales.
Iberian companies began their love affair with Latin America in the early 1990s, embarking on an acquisition binge that, according to Thomson Reuters data, saw over 130 billion Euros flow across the Atlantic.
Dubbed the Reconquista in a nod to Spain's 16th colonization, the investments have yielded rich returns, providing companies with a slice of the fast growth and surging consumer demand in powerhouses such as Brazil and Mexico. Those profits have offset shrinking revenues at home.
But Latin American economies are now slowing too, hit by China's waning appetite for commodities, the stop-start US recovery and, ironically, the crisis rippling out of Europe.
That is very bad news at a time when Spain and Portugal are mired in recession, with record unemployment, collapsing housing markets and falling consumer spending. Portugal is already on life support via a bailout, while Spain may soon need a full rescue too to go with an existing aid package for its banks.
Exposure to these emerging economies might help, but "that is assuming that activity in Latin American countries remains strong, which is still far from clear given the deceleration already evident in Argentina and Brazil" according to the report.
As in the 16th century, the path to Latin American riches has been littered with pitfalls.
Iberian investors have endured currency collapses, recessions and asset expropriations, most recently for Spain the seizure of oil firm Repsol subsidiary YPF in Argentina and similar moves in Bolivia against power company Red Eléctrica.
Yet the real danger is not outright expropriation but a growth and consumption drop that will erode sales and earnings.
Telefónica is a good example. Desperate to pare its 57-billion Euro debt mountain, the telecoms operator cut dividends for the first time since the Spanish Civil War. Its net profits, meanwhile, fell by a third.
Latin America provides half of Telefónica's revenues, led by Brazil. The mobile phone market there has more than doubled in the past five years but is now losing steam. In the latest quarter, Telefónica Brasil added new subscribers at half the rate of last year. Its profits fell as the struggling economy generated a surge in non-payments.
For Spain's top lender Banco Santander, Brazil provides a quarter of group profits, but earnings there sank 17% in the first half due to a spike in bad loans.