Brazilian Federal Police on strike; delays at airports and border crossings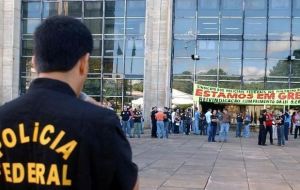 The strike declared by the Brazilian Federal Police on Tuesday is beginning to cause difficulties at international airports, delaying the crossing of visitors to neighbouring countries and some organized pickets have been marching in front of federal government offices.
The National federation of Federal Police, Fenapef, said that the main points of protest so far have been at the international airports of Brasilia and Porto Alegre in the south of Brazil.
However federal police pickets were also involved in protests at the Sao Paulo international airport of Garulhos and in Foz de Iguazú causing serious delays to visitors travelling to the world famous water falls and to normal traffic with neighbouring Argentina and Paraguay.
The strike which has no time limit and was declared in demand of higher salaries has surprised the administration of President Dilma Rousseff because of its extent and intensity of the protests which included pickets in front of government offices in Brasilia.
The Rio do Janeiro branch also stopped passenger traffic in the Tom Jobim international airport for a few hours and anticipated they would only keep to strict working shifts and will not be making any additional time.
The situation with the Federal Police comes on top of other strikes at different federal level departments and offices such as the Sanitary Department from Customs which has caused problems and delays with the import of pharmaceuticals and other medicines, plus perishables at the border crossings.
The government's first reaction has been to order medical and pharmaceutical products in fiscal storage to be delivered directly to importers, although they will have to wait for the final certification before sales.