Organized pickets in Andalusia raid supermarkets for food to distribute among the needy
Wednesday, August 8th 2012 - 18:46 UTC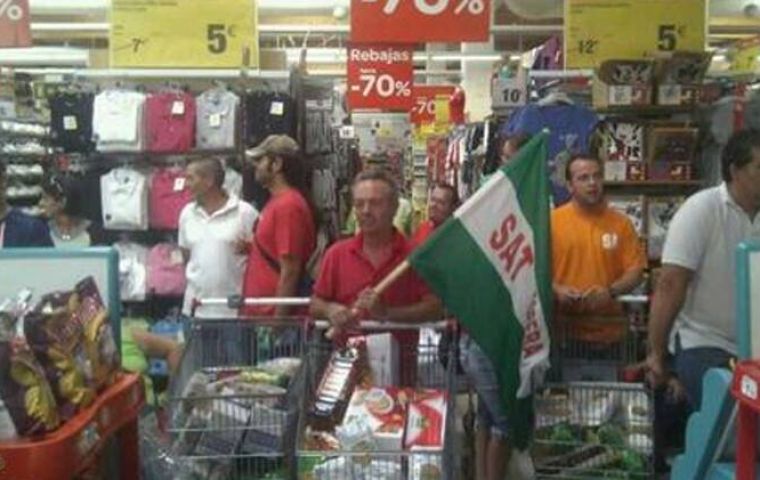 Pickets of unemployed and union members in the south of Spain took over supermarkets and took food produce which they then delivered to social organizations and needy families to protest and warn of the consequences of the tough measures implemented by the government.
The initiative was organized by the Andalucia Workers Union, SAT and took place in two neighbourhoods, one of them in Sevilla and the other in Cadiz.
In Ecija, Sevilla, an estimated thirty jobless members from a farm workers union at midday Tuesday marched into a local supermarket and left with carts full of basic food such as cooking oil, milk, sugar, rice and fresh vegetables.
The protesters left pamphlets warning of the consequences of the austerity measures from the government of President Mariano Rajoy.
There was some scuffling with employees but the protestors marched with over 1.500 kilos of food and the police did not intervene, according to Jose Caballero responsible for the organization of the assault on the business.
Caballero said all the food was delivered to social organizations that feed children and the needy.
"The situation in Andalusia is desperate, there are many families with all members jobless, they receive no subsidies and therefore don't have what to eat", added Caballero.
In Arcos de la Frontera, next to Cadiz the Carrefour supermarket employees locked the exits impeding the militants from leaving the building. However after long negotiations with the managers and the police the protestors marched out with 15 full carts of food products which were then delivered among needy families.
As in Sevilla there were scuffles between the unionists and jobless with supermarket staff but the police made no arrests.
"In the camp the situation has become especially hard, there are no jobs and no subsidies because to renew unemployment cheques you need to prove you worked 35 days in the last twelve months and many can't prove it", said Caballero.
He added that unemployment in rural Andalucia is 40% of the active population and 32% in the region, one of the highest of Spain.