Mexico Ousts Brazil as Investors' Top Choice in Latin America
Friday, August 10th 2012 - 22:28 UTC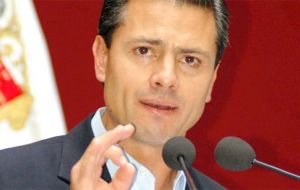 Due to increasing economic stability and a growing population, Brazil is now widely considered an economic powerhouse capable of maintaining and attracting foreign direct investments.(1)(2) However, recent corruption schemes, changes in monetary policy, and the ongoing 2008 global financial crisis have undermined Brazil's shining reputation. In light of Brazil's governmental intervention, the number of state-controlled enterprises, the growing debt-to-GDP in the private sector, and inflation rates, investors have begun to turn their attention to other economies in Latin America, especially Mexico.(3)
The amount of Brazil's foreign direct investments rose from $19 billion USD in 2006 to an estimated $67 billion USD in 2011, constituting 55% of South America's total foreign direct investments—making Brazil the fourth most popular destination for investors in the world.(4) However, many anticipate that the next two years will not prove as favorable for Brazil. The United Nations Conference on Trade and Development (UNCTAD) issued a report in July 2012 predicting that the country will fall from fourth to fifth place globally in terms of the amount of foreign direct investments it receives.(5) Moreover, Brazilian investment firms, such as Itaú, are encouraging their clients to invest outside their borders. As a result, foreign bankers and investors have become increasingly skeptical about investing in Brazil.
Mexico has seen a consistent increase in economic performance as compared to Brazil. On July 10, for example, the iShares MSCI Mexico Investable Market Index Fund increased 14.09%, while iShares MSCI Brazil Index Fund decreased 11.3%. (6)Additionally, in early 2012 Mexico's Gross Domestic Product (GDP) reached a 4.6% growth rate, compared to Brazil's 0.2% growth rate.(7) While Mexico's private sector debt-to-GDP ratio hovers around 20%, Brazil's debt ratio has risen to a staggering 50%, meaning that Mexico's recent efforts to implement changes in fiscal policy have proven more effective than Brazil's.(8) Mexico has used monetary policy to stabilize its inflation rate through "its open economy, free trade policies, and increasing competitiveness … [making] it a hot spot for foreign investments."(9) On the other hand, state-controlled enterprises and government intervention in the private sector have rendered ineffective many of Brazil's recent attempts to attract investors through changes in monetary policy.
Moreover, the recent electoral triumph of Peña Nieto and the return of the notoriously pro-business, Partido Revolucionario Institucional (PRI) has made Mexico an increasingly attractive destination for foreign investments. The pro-market reforms that many expect to accompany the PRI's return have revitalized the optimism of foreign investors about Mexico's economic potential.(10) Nomura Group—an investment bank—issued a statement in early July that went so far as to claim that "Mexico [will] surpass Brazil to become the region's largest economy within the next 10 years" and predicted an annual growth rate between 3.5% and 4.5% per year.(11) Additionally, the report highlighted the "relatively low" costs of manufacturing in Mexico compared to China and how strongly their economy is linked to the US—the world's largest consumer of goods. Most importantly, the report pointed out that "the Mexican banking sector is one of the smallest in Latin America, particularly relative to the level of economic development," and therefore, possesses a large capacity for growth.(12) Based on these positive forecasts, JPMorgan announced earlier this year that it would increase its Mexican subsidiary's "balance sheet" by 250 million dollars making Mexico the only country in the region to receive such a high capital contribution from the investment banking giant. Echoing the sentiments of Nomura, JPMorgan predicts Mexico will grow at an estimated 4% over the next 10 years.(13)
Lastly, Mexico's geographical location has proven critical for the country's economic growth. As Nomura Group cited, Mexico has a strong existing trading partnership with its closest neighbor, the United States, which has contributed to growth. Brazil, however, elected to interlock with China's economy which has been tempered by potentially crushing growing pains and the Euro-Zone crisis. Consequently, Brazil's economy has faltered and could stumble even further while Mexico's flourishes. For example, Mexican car exports to the US have exceeded those of Japan, Korea, and Germany, supporting the data that suggests that the manufacturing sector in Mexico has grown by 4.6% from 2010 to 2011.(14)(15)
Mexico possesses a tremendous capacity to stimulate its economy and encourage its own economic development, but only if takes the necessary steps to address issues such as the drug trade, gang violence, corruption, and social inequalities. Otherwise, Mexico may experience exponential, but what could be short-lived growth and follow Brazil's footsteps. However, an increased domestic output could provide the Mexican Government with the opportunity to address these problems if it increases spending on education and healthcare, which would promote sustainable growth and develop the country's human capital. Only time will tell if the enthusiasm of investors staking a claim in Mexico's anticipated growth rate actually pays off.
Citations:
(1) World Bank. "Public Data". Google, July 13, 2013. Accessed August 3, 2012.
(2) MarketWatch. "Brazil slips in foreign-direct-investment rankings". Market Watch The Wall Street Journal, July 5, 2012. Accessed August 3, 2012. http://www.marketwatch.com/story/brazil-slips-in-foreign-direct-investment-rankings-2012-07-05-164852234
(3) ETF Database. "3 reasons Why Mexico is The New Brazil". Business Insider, August 3, 2012. Accessed August 3, 2012. http://www.businessinsider.com/3-reasons-why-mexico-is-the-new-brazil-2012-8
(4) MarketWatch. "Brazil slips in foreign-direct-investment rankings". Market Watch The Wall Street Journal, July 5, 2012. Accessed August 3, 2012. http://www.marketwatch.com/story/brazil-slips-in-foreign-direct-investment-rankings-2012-07-05-164852234
(5) Ibid.
(6) Rapoza, Kenneth. "Sorry Brasil, Investors Prefer Mexico". Forbes, July 10, 2012. Accessed August 3, 2012. http://www.forbes.com/sites/kenrapoza/2012/07/10/sorry-brazil-investors-prefer-mexico/
(7) Trading Economics. "Brazil & Mexico GDP Growth Rate". Trading Economics, August 2012. Accessed August 6, 2012. http://www.tradingeconomics.com/brazil/gdp-growth.
(8) ETF Database. "3 reasons Why Mexico is The New Brazil". Business Insider, August 3, 2012. Accessed August 3, 2012. http://www.businessinsider.com/3-reasons-why-mexico-is-the-new-brazil-2012-8
(9) Ibid.
(10) Lydon, Tom. "Mexico Shines in Latin American ETFs". ETF Trends Setting the pace, July 31, 2012. Accessed August 3, 2012. http://www.etftrends.com/2012/07/mexico-shines-in-latin-american-etfs/
(11) Dwyer, Rob. "Mexico's economy tipped to overtake Brazil's". Euromoney, August 2012. Accessed August 3, 2012. http://www.euromoney.com/Article/3068013/Mexicos-economy-tipped-to-overtake-Brazils.html
(12) Ibid.
(13) Ibid.
(14) ETF Database. "3 reasons Why Mexico is The New Brazil". Business Insider, August 3, 2012. Accessed August 3, 2012. http://www.businessinsider.com/3-reasons-why-mexico-is-the-new-brazil-2012-8
(15) Lauren. "Manufacturing Industry in Mexico Sees Positive Growth". México Today, July 18, 2011. Accessed August 9, 2012. http://mexicotoday.org/article/manufacturing-industry-mexico-sees-positive-growth

By Jorge Rojas-Ruiz, Research Associate at Council on Hemispheric Affairs