Toyota opens third plant in Brazil and announces engine plant
Friday, August 10th 2012 - 08:27 UTC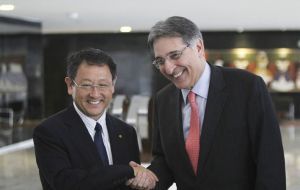 Toyota from Japan has inaugurated its third plant in Brazil that aims to produce 70,000 cars a year. The facility, located 90 kilometres west of Sao Paulo in Sorocaba, will begin producing Etios compact cars next month, with engines imported from Japan.
Attending the inauguration in the sprawling complex on Thursday were Toyota president Akio Toyoda, Brazilian Development, Industry and Foreign Trade Minister Fernando Pimentel, Sao Paulo governor Geraldo Alckmin and Japanese ambassador to Brazil Akira Miwa.
Toyoda described the four-door Etios, which will be produced in hatchback and sedan versions, as "a car made by Brazilians for Brazilians".
Pimentel said the Sorocaba plant, billed as environmentally friendly and employing 1.500 workers, amounted to a vote of confidence by the world's leading automaker "in the strength of the Brazilian economy and the Brazilian auto market".
Brazil is the world's fourth largest auto market after the United States, China and Japan.
Shunichi Nakanishi, president of Toyota Mercosur, said the company planned to double its sales in Brazil to around 200,000 vehicles in the next two years and become one of market leaders in the next 10 years.
The Japanese carmaker had roughly 3% of the Brazilian auto market last year, well behind leading players Fiat, Volkswagen and General Motors.
Toyota, present in Brazil since 1958, has two other plants also located in Sao Paulo state: in Sao Bernardo do Campo, where it is headquartered, and in Indaituba.
On Wednesday, Toyoda announced after talks with President Dilma Rousseff in Brasilia that Toyota also planned to invest 495 million dollars to build an engine plant in Porto Feliz, located 32km from Sorocaba.
That facility will be ready in 2015, employ 600 people and churn out about 200.000 engines for Etios and Corolla cars.
The Porto Feliz engine plant will eventually enable Toyota to produce the two models with 85% local content and thus avoid being subject to the 30% import tax.
Last April, Brazilian authorities introduced a new directive known as Inovar Auto aimed at spurring innovation by forcing automakers to invest in vehicle and component research and product development.