Attractiveness Survey shows foreign investors remain with great interest in Brazil
Saturday, August 11th 2012 - 10:13 UTC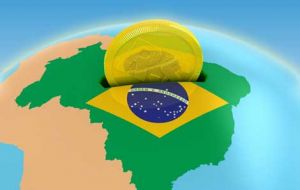 A stable economy, a burgeoning domestic market and huge untapped reserves of natural resources have led foreign investors to become increasingly interested in Brazil as an investment destination although there are challenges to sustaining this attractiveness according to Ernst & Young's first annual Brazilian Attractiveness Survey.
The survey combines an analysis of foreign direct investment (FDI) into Brazil since 2007 with a survey of 250 global executives on their views on Brazil as a potential place to do business both now and in the future.
Despite an unsettled world economic outlook, Brazil saw a record number of FDI projects in 2011, establishing it as the second most popular global destination in terms of FDI value and fifth in terms of number of projects. The value and number of inward investment projects to Brazil has tripled since 2007 from 19 billion dollars to 63bn and from 165 in 2007 to 507 last year respectively.
Brazil was rated as easily the most attractive location for future foreign direct investment destination in Latin America by 78% of survey respondents. In addition, 83% of respondents believed that Brazil's attractiveness as an investment location will improve over the next three years in comparison to just 38% who believed that Europe's attractiveness will improve over the same period.
Jim Turley, Chairman and CEO of Ernst & Young said that "Brazil has transformed itself from a country with bleak economic prospects in the 1970s, to a formidable force in the global economy. Part of that success story has been Brazil's ability to position itself as an increasingly attractive place to do business. The future has its challenges but the hosting of the soccer World Cup in 2014 and the Rio 2016 Games will contribute to infrastructure development and act as a catalyst to attract significant additional investment into the country."
Where has the investment into Brazil come from?
Last year the US continued to be the largest investor in Brazil in terms of projects (up 43% to 149), value 12.4bn) and jobs created (35,195). This is largely explained by the geographic proximity and the development of trade agreements between the two countries. US investors have historically primarily targeted the ICT, manufacturing, business services and financial services sectors in Brazil.
The UK jumped from being the fifth largest investor in Brazil in 2010 to second in 2011 by project numbers with 45 and the total value of UK investment was nearly on a par with the US at 12.2bn. Although UK companies have been present in Brazil for many years, they are now looking to expand their investment across a wider array of sectors including business services, manufacturing, mining and metals and ICT.
Spain was the third largest investor into Brazil with Germany fourth in terms of projects numbers. Although the value of German investments remains low at 3bn this is likely to increase in the near future given the involvement German corporations have with the infrastructure upgrades for the World Cup and the Rio 2016 Games. Both Germany and Japan, which ranks fifth and increased its FDI projects by 57% in 2011, are also beginning to invest heavily in the energy sector.
China has emerged as the fifth largest investor in Brazil in terms of value of FDI with investment increasing six-fold since 2010 and a 70% increase in project numbers. It also ranks fifth with the number of jobs created at 9,049. The recent boom in the Brazilian consumer market has also led to an increase in investments by small and medium-sized Chinese companies in the country's manufacturing sector. In the future Chinese investment is also expected to be directed at the areas of technology, logistics and infrastructure. The overall momentum across all sectors is also expected to increase as a result of a joint communiqué signed in 2011 to promote cooperation in trade and investment.
CEO Jorge Menegassi at Ernst & Young South America and Brazil explains, "Brazil is an attractive investment destination for Chinese companies thanks to its vast natural resources in oil, gas and minerals."
But despite the positive long-term outlook for Brazil, the FDI numbers for the first quarter of 2012 were down significantly with only 5bn of inflows in Q1 2012, compared to the 23bn invested in Q1 2011. Similarly project numbers were down by 19% from Q1 2011.