Brazil signs contract for the purchase of wheeled armour personnel carriers
Saturday, August 11th 2012 - 10:23 UTC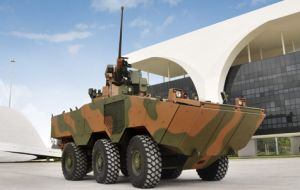 The Brazilian Army and Iveco signed this week a contract for the purchase of 86 VBTP MR wheeled armoured personnel carriers known as Guarani. President of Iveco Latin America, Marco Mazzu, said that he was proud to participate in the "renaissance of the defence industry in Brazil".
Minister Celso Amorim, in turn, said the start of production of the Guarani marks the implementation of the Defence Organization and Equipment Plan (PAED).
He said that it is noteworthy that "the PAED is becoming reality," and that its implementation will contribute to strengthen the Brazilian defence industry.
Amorim also noted that 48 of 86 vehicles under the contract were included in the Growth Acceleration Program (PAC) financing facilities of the Federal Government. Altogether, the Ministry of Defence will receive 1.527 billion Reais' worth of PAC equipment.
In addition to the 40 Guarani vehicles, the funds will be used for purchase of 4.170 trucks and 30 Astros 2020 missile launch Vehicles. The transfer of the funds money was authorized in late June, through a Provisional Measure signed by President Rousseff.
Developed with Brazilian technology through a joint project between the Army Technology Centre and Iveco, part of the Fiat Industrial Group, the Guarani is a six-wheel drive amphibious vehicle that will serve as the basis for a new family of armoured multi-mission vehicles capable of carrying out reconnaissance and fire support missions.