"Two tough years" ahead for Uruguayan construction and real estate
Saturday, August 11th 2012 - 11:26 UTC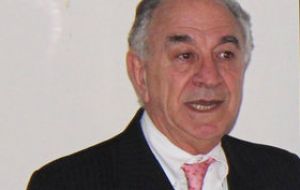 The Uruguayan construction industry faces tough years ahead because of the international crisis and its effects on neighbouring Argentina, forecasted economist Jorge Caumont who is also an advisor of several real estate agents.
"The Argentine investors who have been the engine for the boom in the Uruguayan construction industry and real estate market will disappear as a consequence of the situation in their country; it's hard to see Argentine and Brazilian investments arriving in Uruguay in the near future", said Caumont during a conference organized by the Uruguayan real estate chamber and the HSBC bank.
This situation, he added will have a negative impact on both activities mainly in Punta del Este, Uruguay's international resort, and in the capital Montevideo, "and we should see the deterioration begin at the end of the year of half way through next year".
Caumont also make a quick reference to the challenges facing the Uruguayan economy in this scenario and forecasted an economic deceleration in the coming twelve months, because of a drop in foreign demand and less inflow of capital.
And with a US dollar strengthening worldwide, "if we don't devalue we are going to have problems because it erodes competitiveness with the rest of the world and this will be felt in our exports".
He anticipated that inflation with be above target (4% to 6% annually) and is inclined to believe it will be closer to 8.7% in 2012 and 8.5% in 2013. "Global interest rates will continue to be low but there will be a retraction in world and (Uruguayan) domestic demand".
But Caumont was merciless with Argentina: their economy is heading for a "very strong recession, high inflation, serious trade problems and even more in the money exchange markets". He forecasted that before the end of the year Argentina will have to devalue the Peso in at least 30%.
However in the event of such a scenario the economist said that the Argentine devaluation should not have a great impact on the Uruguayan money exchange market since the government has sufficient international reserves, if needed to contain the market and avoid extreme situations. Caumont estimates that the US dollar will end 2012 close to 22.50 Uruguayan Pesos and in 2013 it could reach 23.50 Pesos.
As to Brazil, it will reduce purchases of goods and services in Uruguay which will also impact tourism. "We can expect to see a significance retraction in the purchase of land holdings, housing and companies in which Brazilian investors were involved".
As to Uruguayan labour costs, Caumont said that even when the country currently has a very low unemployment rate, nevertheless in the last two months the rate climbed 0.7%. He also cautioned that the new round of salaries' negotiations could complicate things, since strong labour unions will press for percentages higher than those companies are prepared to pay given the growing global uncertainty.
Finally Caumont said in his opinion to moderate extreme impacts the government will again increase public spending, as it did in the previous elections. General elections in Uruguay are scheduled for October 2014.