Standard Chartered CEO in US to discuss money laundering allegations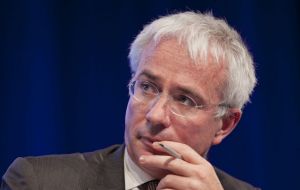 Standard Chartered chief executive is in New York to negotiate directly with the US regulator that accused it of "scheming" to hide 250bn dollars of transactions with Iran. The regulator will hold a hearing on Wednesday to decide whether to revoke the bank's New York banking licence. It is unclear yet whether Peter Sands will attend the hearing.
The UK-based bank is trying to negotiate a settlement with US authorities over the allegations. The bank says it does not yet know whether Wednesday's hearing will be held in public or private.
A Standard Chartered spokesman told the BBC that the bank was waiting to hear from the New York state regulator, the Department of Financial Services (DFS), on what form the hearing would take.
"Peter is prepared to appear if required," the spokesman said.
Mr Sands will work with the bank's lawyers, who are attempting to negotiate a settlement over the issue with US authorities, the spokesman added.
"We have been trying to negotiate a settlement with all the US agencies over the course of this year. That process is ongoing. We said all along that this is our preference," he added.
Last week, New York's DFS alleged that the US unit of the bank had illegally hidden 60,000 transactions with Iran worth 250bn dollars over nearly a decade.
It accused the London-based bank of being a "rogue institution" for breaking US sanctions against Iran.
Standard Chartered admitted that some of its transactions did break US sanctions, but said that the amount was only 300 transactions, worth about 14 million dollars.
"This was clearly wrong and we are sorry that they happened," Mr Sands said.
Mr Sands said at the time that he was "completely surprised" by the ferocity of the DFS attack, which he described as "disproportionate". (BBC).-