US, France and Mexico considering G20 emergency meeting to address soaring grain prices
Tuesday, August 14th 2012 - 22:10 UTC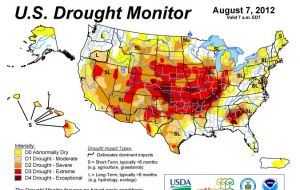 US, France and Mexico are planning talks to consider whether an emergency meeting is needed to tackle the soaring price of grain. The three will hold a conference call at the end of this month after the worst US drought in 50 years threatens to cause a sharp rise in the cost of staple crops.
The call will decide whether to convene the first meeting of the newly-formed G20 Rapid Response Forum, which was formed to promote united action.
A French agriculture ministry official said: "If the situation requires it, a meeting of the Rapid Response Forum could be called as soon as the start of September. The aim is to talk about the situation and avoid measures like export embargoes which would be damaging for everyone."
Last week the price of benchmark Chicago corn closes at an all-time high after the US Department of Agriculture cut its production estimate by 17%.
Four years ago spikes in the price of food triggered riots in 12 countries, including Egypt, and prompted Russia to ban wheat exports to conserve its own stocks.
The conference call will discuss a report on agricultural prices requested by France which was compiled by the Agricultural Market Information System (AMIS). France is currently the president of both the forum and the AMIS system, which is based at the UN Food and Agriculture Organisation (FAO).
The FAO food index last week was reported to have risen above the record registered in 2008 after jumping 6% in July.
The forum has no formal power to impose decisions on member states, but it is hoped that discussions will discourage countries from taking unilateral actions.