Brazilian state plans cattle traceability system with ear-tags and chips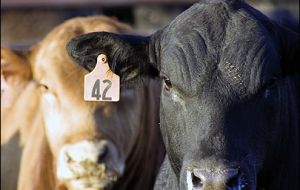 The Government of the Brazilian state of Rio Grande do Sul is planning to invest about 25 million dollars in restructuring animal health protection in the state and electronically identifying every beast in its 13 million cattle herd, in a project designed to provide a full traceability system.
The project will buy and distribute devices such as ear-tags, chips and readers, and equipment for Government inspectors.
The government says traceability will ultimately become mandatory, as it is in the neighbouring country of Uruguay.
Meanwhile in Uruguay the nation's National Meat Institute will trial a system where all vacuum packed rump tri-tips (known locally and much prized as picanha) carry a QR code labelling system.
QR codes, accessible via an App on an I-phone, are a variation on conventional bar codes, but can carry a great deal more information.
Each time a consumer scans the QR code using their mobile phone, they will be able to navigate to a website page that will exhibit a video with information about the attributes of Uruguayan beef, and how best to prepare picanha.
The plan will apply to all suppliers of beef within Uruguay, both domestic and imported, which could potentially include Australian supplies. The three-month trial started on August 1. (Meat Trade news daily).-