Mujica support falls to 39%; pot and Mercosur sanctions on Paraguay weighed
Wednesday, August 15th 2012 - 09:32 UTC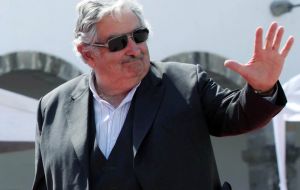 Uruguayan president Jose Mujica approval plummeted to 39% in July, the lowest since taking office among other reasons for his plan to de-criminalize marihuana and his handling of the controversy with Argentina, according to the latest public opinion poll made public this week.
Last April Mujica support stood at 47% points out the Mori-Equipos poll. Similarly those who disapprove of his performance reached 33% in July which is five points more than last April.
Among the factors influencing the loss of support the poll indicates the controversial presidential initiative to decriminalize the planting and supply of marihuana (which would come under government surveillance), currently under consideration in Parliament.
Another issue has been the handling of relations with Argentina and President Cristina Fernandez involving several disputed points of a bilateral agenda.
Mori-Equipos also points out to the removal of Tourism and Sports minister Hector Lescano, the most popular of the cabinet and the suspension of Paraguay from Mercosur and the simultaneous incorporation of Venezuela to the regional block which triggered a strong controversy between the President and Vice-president Danilo Astori.
Another factor in the long list is the recent bankruptcy of the country's flag air-carrier Pluna, which the Mujica administration simply let it collapse and is planning to auction the aircraft next month.
The poll interviewed 713 people over 18 in cities of more than 10.000 population and with a margin error of plus/minus 3.7%.
Mujica, 77, a former guerrilla leader is the second president running of the catch all coalition Broad Front with an arch that extends from Communists and Socialists to Christian Democrats. The first was Socialist Tabaré Vazquez who handed the presidential sash to Mujica in March 2010.
A similar poll indicated that if national elections had been held last Sunday, the ruling coalition would garner 42% of the vote followed by the National party with 22% (up two points) and the Colorado party with 14%, down two points.