Students and police clash in Santiago; mayor threatens to cancel protestors scholarships
Wednesday, August 15th 2012 - 08:50 UTC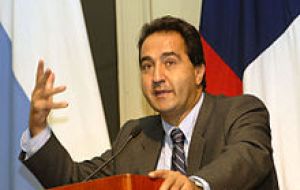 For a third day running Chilean riot police broke up protests by students who had taken control of several high schools in the capital Santiago to demand education reform.
Hundreds of high school students also blocked traffic in Santiago and Mayor Pablo Zalaquett threatened to remove scholarships from students who join the school takeovers. His plan was criticized by other mayors calling it an abuse of power, but it received public support from Education Minister Harald Beyer.
"I think it's sensible for a mayor who has limited resources to use these recourses on students who are committed to education," Beyer told reporters. "We have to look out for the right to education."
The changes sought by students who have been protesting and boycotting classes all week would fundamentally overhaul a school system that has been privatized since the 1973-90 dictatorship of Gen. Augusto Pinochet.
Mass demonstrations initially raised expectations for profound changes, but more than a year after the first protests, few students have seen any real benefits. Protesters say the system still fails families with poor quality public schools, expensive private universities, unprepared teachers and banks that make education loans at high interest rates that most Chileans can ill afford.
The government plans to raise about a1 billion dollars in taxes for education, but students say it's not enough. In an interview with The Associated Press earlier this year, Beyer said the government would not cede to their demands for free education, calling it an unfair, backward-looking policy.
Last week, police used water cannons to break up a march by thousands of students in a protest where hooded vandals set three city buses on fire, 75 people were arrested and 49 Carabineros were injured. The government criticized student leaders for allowing the march that had been banned by Santiago's municipal government.
Gabriel Boric, the president of the University of Chile student federation, initially said the burning of the Transantiago mass transit system buses had been staged. But on Tuesday, over Twitter, he said he regretted the "unfortunate" comment. Presidential spokesman Andres Chadwick said he praised the retraction.
President Sebastian Piñera approval ratings have plunged with the protests making him the most unpopular Chilean leader since the country returned to democracy in 1990.
Piñera has refused to radically change the education system and instead has proposed to fund thousands of new scholarships and lower student loan interest from an average of 6% to 2%. He says the plan, which passed the lower house and is being debated in the Senate, would allow more promising students to attend the best schools in Chile and slash the financial burden on their families.
Student leaders say real change will only come when the private sector is regulated and education is no longer a for-profit business.