Mujica working for more trade agreements and a Mercosur with 'flexibility'
Thursday, August 16th 2012 - 02:26 UTC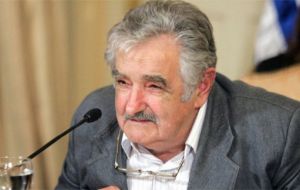 Uruguay needs "new markets and new partners" and must try to diversify trade with the largest possible number of agreements to make Mercosur more flexible and anticipate the current process in Argentina, said President Jose Mujica.
"We can't have all eggs in the same basket because the Argentine (economic) situation could impact on Uruguay. We need new markets, new partners and diplomatic and political efforts so we can have the largest possible number of agreements to make Mercosur course more flexible", said Mujica in an interview.
The president also justified his government's decision for Uruguay to apply for incorporation as an observer at the Alliance of the Pacific, made up of Chile, Peru, Colombia and Mexico.
"We must examine today's reality: the Mercosur born in the nineties when neo-liberalism was prevalent has changed. Now we have an institutional crisis and we need changes in flexibility" added Mujica who emphasized the need to 'triangle' with those Latinamerican countries that do not belong to Mercosur, "that is why we believe the Andean community is so important and we are going to have this analyzed with our Mercosur partners".
As an example of flexibility the Uruguayan president mentioned the recent inclusion of Venezuela because "while they did not belong to Mercosur they subscribed agreements with countries from the Caribbean and we can't ask them to drop them".
"I think this represents a small step for flexibility and that is why we are going to sign an agreement with Peru".
The president added that having good relations with all countries from the region is essential and insisted "diversification" is the clue to success.
In support of his statement Mujica argued that Uruguay, despite its size has become the world's fifth exporter of beef and this was achieved by diversifying exports to over 100 markets which also represent the highest average prices.
In related news the Minister of Tourism and Sports Lilian Kechichian said that the Uruguayan government is considering "special measures" that could help mitigate the impact of recent Argentine decisions particularly referred to money exchange restrictions.
"We are considering specific strategies for the coming summer season to lure tourists from Argentina", said Ms Kechichian who did not reveal details.
The minister said that in the first half of this year Uruguay received 1.6 million tourists which is 1% less than last year "but in that figure the number of Argentines actually increased 8%".
The administration of President Cristina Fernandez has called on Argentines to have their savings in Pesos, 'forget dollars' and at the same time imposed strict measures on foreign currency trading which are managed by the tax revenue office AFIP and the central bank geared to limit the purchase of US dollars.
This has had a direct impact on Argentines wishing to travel overseas be it for pleasure, business, academia or other reasons.
Those requesting dollars to travel overseas must show the air ticket, fill a form with all their fiscal data (income, assets, taxes paid), motive of the trip and if bureaucracy moves fast and approves the request you might receive probably half the sum in currency of the country you are planning to visit, minutes before taking the plane.
Credit card holders issued in Argentina are also limited since last week, because banks no longer compensate automatically but must wait in the queue for the needed dollars from the central bank.
As a direct consequence of the restrictions Argentina has an official exchange rate with the dollar, in the range of 4.65 to 4.70 Pesos and a parallel trading at an average of 6.50 Pesos but with occasional peaks of up to 7 Pesos.