Struggle for education reform in Chile: police arrest 70 students occupying schools
Thursday, August 16th 2012 - 19:52 UTC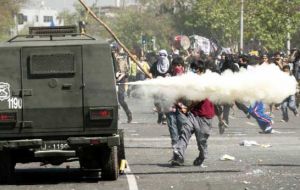 Chilean police stormed on Thursday three schools in the centre of Santiago, overtaken by students for the past week, and arrested 70 young people who were involved in the protests demanding education reform.
A large group of police officers evacuated Darío Salas School, Miguel de Cevantes and Confederación Suiza School this morning in the Chilean capital, after they had been overtaken for a week. The evacuation was ordered by Santiago Mayor Pablo Zalaquett.
Thirty-two of the young people were arrested at Liceo Cervantes School, while the other 41 were detained at Darío Salas amid clashes with police officers and students, who resisted the evacuation after the week-long sit-in that had begun peacefully.
The evacuations were ordered by Zalaquett after a failed meeting with the student's representatives.
"All of the evacuation operatives have been carried out. I would have liked for there not to have been arrests. All of the chances to get out of the situation in a peaceful way were given. Unfortunately the students chose to not take them and resisted force," Zalaquett told a local radio station.
The students continue to protest because they consider their demands for reform in the Chilean education system have not been heard by Sebastián Piñera's government.
The demands began last year where more than 40 marches and brash clashes with police, through the centre of Santiago were carried out with almost a hundred schools being taken over for a number of months.
Chile the only South American member of OECD is one of the economic success stories of the last two decades, but it scores the lowest in education in spite of great advances.
However, per capita Chileans spend 30% of income on higher education, 84% of which is borne entirely by the individual. This is three times higher than in the United States, Japan or Australia. Loans are available, but the alarming number of families who default (40%) forces many students to drop out.
A 2006 UNESCO study found that 26% students from the two upper income quintiles dropped out before their fourth year. Among the two lowest quintiles, the figure jumped to 65%.
Nevertheless R&D in Chile is strong in comparison with other South American countries. The quality of its science is good; the number of scientific papers published by Chilean researchers has tripled in ten years; they are more frequently cited than those of other South American researchers.
But if Chile intends to further strengthen its R&D sector and beckon more students into doctoral programs, it will have to shorten the route to Parnassus and clear the path to keep those less economically fortunate from abandoning the climb altogether, according to reports from OECD and the Inter American development Bank.