Latam support for Ecuador could turn Assange case in another 'Falklands issue' for UK
Friday, August 17th 2012 - 07:16 UTC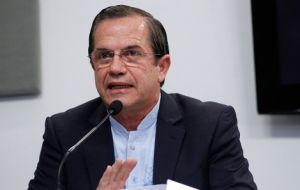 Another major diplomatic conflict between South America and the UK, as with the Falkland Islands' sovereignty dispute, could turn nasty following Latinamerican strong support for Ecuador and its granting of political asylum to Wikileaks founder Julian Assange and London's explicit determination to deny him a safe conduct and have him extradited to Sweden.
On Thursday Assange described Ecuador's decision to grant him political asylum as a "significant and historic victory", but UK Foreign Secretary William Hague made it clear that Assange would not be allowed safe passage out of Britain.
Assange has been taking refuge in the Ecuadorian embassy for the past two months after facing extradition to Sweden on allegations of sexual assault. He denies the claims and fears being sent to the United States if he goes to Sweden.
Wikileaks spokesperson Kristinn Hrafnsson announced that on Sunday Assange will be making a personal statement from the Ecuadorean embassy garden, "his first appearance in public since last March".
Foreign Secretary Hague said that Assange would not be allowed safe passage out of the UK despite the asylum decision, and that diplomatic immunity should not be used to harbour alleged criminals.
Meanwhile several Latinamerican organizations have announced extraordinary meetings to address the dispute and what has been interpreted by some countries as UK threats of "raiding" the Ecuadorean embassy in London to catch Assange and have him sent to Sweden as was determined by a British court.
On Friday the Permanent Council of the Organization of American States (OAS) will meet in Washington to consider calling a Consultation meeting of Foreign Affairs ministers to address "the situation between Ecuador and the UK surrounding the granting of diplomatic asylum to Julian Assange".
Ecuador OAS ambassador María Isabel Salvador proposed the meeting to consider "threats by the UK against Ecuador and its diplomatic premises in that country," after Quito granted diplomatic asylum to Julian Assange, who has been in the embassy of Ecuador in London since June 19, 2012.
Ambassador Salvador said Ecuador received a written communication from the UK warning the government of Quito it "should be aware that there is a legal basis in the United Kingdom, the Diplomatic and Consular Premises Act of 1987, which would allow us to take action to arrest Mr. Assange in the existing facilities of the embassy".
The proposal was supported by all members with the exception of US and Canada that argues it is a bilateral issue between Ecuador and UK.
Likewise this weekend the Foreign Affairs ministers from ALBA (Bolivarian Alliance for our America) the brainchild of Venezuela's Hugo Chavez and of which Ecuador is member will be holding an extraordinary meeting in Guayaquil to address the diplomatic dispute.
And on Sunday, Unasur, the Union of South American Nations (a creation of Brazilian diplomacy) Foreign ministers will also be gathering at Guayaquil to consider the situation. The round of meetings was confirmed by Ecuadorean Foreign minister Ricardo Patiño.
Before the granting of asylum Ecuadorian ministers had already accused the UK of threatening to attack the embassy to seize Assange, after it emerged that the Diplomatic and Consular Premises Act 1987 could allow revocation of a building's diplomatic status if the foreign power occupying it "ceases to use land for the purposes of its mission or exclusively for the purposes of a consular post".
Under international law, diplomatic posts are considered the territory of the foreign nation. But Mr Hague said: "There is no threat here to storm an embassy. We are talking about an Act of Parliament in this country which stresses that it must be used in full conformity with international law."
Likewise in Washington the UK permanent observer at OAS, Philip Barton said that "it does not consider (the message) a threat to the Ecuadorean embassy" and underlined that London wants to reach a "mutual and diplomatic solution" to the situation.
Barton said that under UK legislation we have a linking obligation to extradite Assange to Sweden who added that the UK position "does not refer to Wikileaks activities or the US position on the matter".
From Mexico City International Law professor Julio Sau anticipated "the conflict will most probably become multilateral and highly politicized too".
"Politically it is a good opportunity for Unasur. UK already has a major conflict with Argentina over the Falklands/Malvinas Islands, and it will be very interesting to see what happens because Unasur resolutions are by consensus" underlined Professor Sau.
However Sau downplayed the possibility that the UK breaks into the Ecuadorean embassy in London and speculated that UK will delay indefinitely Assange's safe passage through British territory.
Sau said that under International Law the 1964 Vienna convention means domestic law does not prevail in cases as granting political asylum and "this has been respected even in the worst dictatorial moments of Latinamerica and Africa".
The Mexican professor recalled that in the dispute over the Falklands/Malvinas Islands the South American block has unanimously supported Argentina, even regarding controversial measures as limiting sea and air connections or interfering with trade links.