Protesting Chilean students occupy main Santiago university despite arrests
Saturday, August 18th 2012 - 06:24 UTC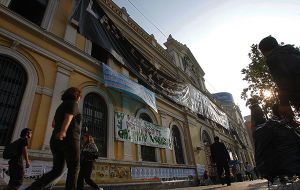 Following over a hundred arrests made on Thursday and clashes with police, students in Santiago occupied on Friday the central building of the University of Chile, the country's most important higher education facility, as the demands to the government over education reform ensue.
Some thirty university students entered the building this morning, located metres from the Chilean presidential palace, in the centre of Santiago.
In 2011, the building was taken over for the period of five months, while bloody protests and clashes took place on the Chilean capital city's streets on numerous occasions throughout the year.
"Secondary school students and university students are in the same fight and we are not going to take a step back on this," the president of the student's federation from the University of Chile Gabriel Boric said on his Twitter account today.
Students reignited their claims two weeks ago in the hopes of changing the education system left by dictator Augusto Pinochet (in power from 1973-1990) demanding free university education and central government control over public schools.
Many schools were occupied in peaceful protests across the Chilean capital city during this time, which came to a head on Thursday when police arrested 139 students for participating in the protests.
Chile the only OECD member in South America is one of the economic success stories of the last two decades, but it scores the lowest in education in spite of great advances.
Chileans spend 30% of income on higher education, 84% of which is borne entirely by the individual. This is three times higher than in the United States, Japan or Australia. Loans are available, but the alarming number of families who default (40%) forces many students to drop out.
A 2006 UNESCO study found that 26% students from the two upper income quintiles dropped out before their fourth year. Among the two lowest quintiles, the figure jumped to 65%.